Neb. inmates train dogs with help of partner program
Inmates prepare dogs for adoption through training, socialization
---
CorrectionsOne Staff
LINCOLN, Neb. — A program that pairs shelter dogs with inmate trainers is celebrating its 15th anniversary working with the Nebraska Department of Correctional Services. 
Male inmates at the Nebraska State Penitentiary work with Second Chance Pups staff members and dogs for nine weeks at a time, according to a NDOC press release. The inmates are responsible for teaching the dogs basic commands like 'sit' and 'stay,' as well as more complex tasks like crowd navigation and greeting strangers.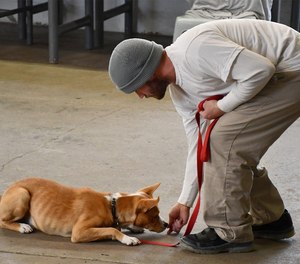 "The interaction that participants experience when working with their dogs is transformational," said NDCS Director Scott Frakes, according to the press release. "The responsibility of caring for and training an animal allows each participant to gain new skills and feel a sense of purpose." 
After completing nine weeks of obedience training, the dogs are eligible to be adopted. According to the press release, 350 inmates have participated in the program, and more than 450 dogs have been adopted as a result. 
"The trainers often relate to the shelter dogs they train," said Melissa Ripley, Second Chance Pups trainer and adoption coordinator, according to the press release. "Many times, they never experienced success in the community. It's good to see them be successful in training the dogs and taking pride in what they are doing. They learn new skills they can take back into the community, wherever they go."