Calif. prisons launch statewide internal affairs team after mishandled inmate complaints
A review found inmate complaints of staff misconduct were handled "inadequately" in more than half of all cases it analyzed at Salinas Valley State Prison
---
By Matt Kristoffersen
The Sacramento Bee
SACRAMENTO, Calif. — The California Department of Corrections and Rehabilitation created a new statewide internal affairs division to investigate complaints against staff, aiming to standardize a process that various prisons had handled inconsistently.
The new unit — staffed with 36 lieutenants and six captains — was disclosed in a report published by the system's Office of Inspector General last week.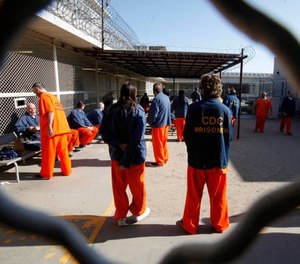 Its development followed a 2019 special review compiled by the Office of the Inspector General, which found that inmate complaints of staff misconduct were handled "inadequately" in more than half of all cases it analyzed at Salinas Valley State Prison.
Ninety-seven percent of Salinas Valley complaints resulted in a determination that staff did not violate policy. But the 2019 report says 92 percent of these investigations had at least one "significant deficiency" in the way they were conducted. Questions weren't being asked. Evidence was poorly gathered. Confidentiality was breached.
And according to the Salinas review, none of the officials who investigated these inmates' complaints received meaningful training on dealing with them.
In one example, a reviewer interviewed an inmate within hearing distance of the officer they had made a complaint against — a violation of confidentiality.
In another, after an inmate said an officer made derogatory remarks about their sexual identity, a reviewer did not collect the employee sign-in sheet to find potential staff witnesses. Sometimes, the report suggests that reviewers primarily settled misconduct allegations based on their opinions of the officers involved.
That review only discussed Salinas Valley State Prison, a high-security facility in Monterey County. Between December 2017 and May 2018, the prison accounted for 9 percent of misconduct complaints across the state.
The system inspector general wrote the same problems "may also exist" in other prisons in California.
"The problems we encountered require substantial changes at Salinas Valley," their 2019 review states — a "complete overhaul."
Other recommendations found in the review include mandatory audio recording of subjects and witnesses, comprehensive training for staff and a ban on injecting personal opinion into final complaint reports.
The Salinas investigation led the department to open a new branch in its Office of Internal Affairs, called the Allegation Inquiry Management section. It received $9.8 million last year to open. .
The section had a staggered roll-out in the state earlier this year. Now, department spokeswoman Terry Thornton said, it's "fully operational."
The branch "supports the grievance process by providing independent, objective and industry-standard inquiries into specified offender allegations of staff misconduct and provides a fact-based report to the hiring authority for an appropriate decision," she wrote.
It accepted 222 allegations from inmates across the state between Jan. 27 and late May, Thornton wrote. 85 of these are still pending.
In an annual report released last week, the Office of Inspector General said that it's also in the process of forming a new unit dedicated to overseeing the new division.
That move is in response to California legislators' directive last October for the office to monitor complaints, and will be among the ways the office will spend the additional $3.5 million California legislators allocated for the organization in 2019 state budget.
The section, said inspector general spokesman Shaun Spillane, is a "tremendous step forward."
———
©2020 The Sacramento Bee (Sacramento, Calif.)
McClatchy-Tribune News Service