'Racially motivated' fight leaves Ariz. prison on lockdown
Authorities said four inmates were injured in a brawl involving about 80 prisoners at Red Rock Correctional Center
---
By Clarice Silber 
Associated Press
PHOENIX — A privately run prison in Arizona remained on lockdown Thursday after four inmates were injured in a brawl involving about 80 prisoners that authorities had to use pepper spray to break up.
Authorities described the melee at the Red Rock Correctional Center between Phoenix and Tucson as racially motivated while providing little detail about how the disturbance unfolded.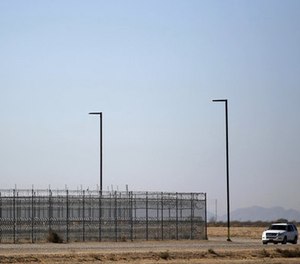 Arizona Department of Corrections spokesman Bill Lamoreaux said four inmates were sent to the hospital, and two have already been released and sent back to the prison.
The medium-security unit where the fight happened houses 928 inmates at the facility operated by CoreCivic. The company formerly known as Corrections Corp. of America is the largest private prison operator in the United States and has several facilities in Arizona.
The company struck a deal this week with city officials in Mesa to jail people arrested on misdemeanor charges at a location in Florence.
A nearby CoreCivic facility in Eloy that houses immigrants has been a frequent target of activists over jail conditions that they say has led to a high number of deaths and health issues, including a measles outbreak last year.
Arizona severed ties with a Utah-based private prison operator in 2015 after a string of troubling security and training lapses led to violent riots at a Kingman prison.
Lamoreaux could not immediately provide more details on why the fight was racially motivated.
Donna Leone Hamm, the director of Middle Ground Prison Reform, said the Department of Corrections typically lists disturbances as racially motivated despite other underlying reasons.
Hamm said prisoners will generally side with their racial or ethnic group in accordance with an unwritten inmate code and that labeling disturbances as race-related is an oversimplification.
"Often underlying those things are the same kinds of things that caused the Kingman riots — inmates being treated unfairly in the disciplinary system and visitation being tampered with or denied for arbitrary reasons," Hamm said. She said denying telephone calls with family or general confinement conditions can also be relevant in sparking disturbances.
"Those are what usually cause the underlying tension and then some small incident will set everything off and make it look as though it's a racial incident," she added.
CoreCivic referred questions about the incident to the Department of Corrections.
Arizona currently has 10 state prisons and six private prisons throughout the state.
California correctional officers at a Sacramento prison Wednesday opened fire to quell a rare mass attack on eight prison guards by more than 100 inmates. Four inmates were hospitalized with gunshot wounds.