How to buy tactical entry tools (eBook)
Download this CorrectionsOne tactical entry tools buying guide to learn key steps for product selection, purchasing and implementation
---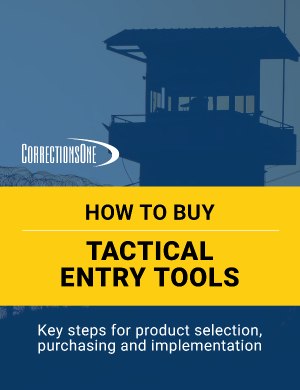 The need to get into a locked cell, past an improvised barricade or through a fence for exigent (emergency), evidentiary and/or tactical reasons is a challenge for correctional emergency response teams. The danger to correctional officers, whether responding to a crisis inside or outside the correctional facility, is worsened if the inmate or escapee has gained access to firearms or other weapons.
There are many options for agencies who want to equip correctional officers with the tactical entry tools specifically designed to breach a secured structure quickly. Often, the threats facing the correctional officers during the breach also call for the use of ballistic shields to reduce the threat potential.
This CorrectionsOne guide to buying tactical entry tools – whether you are leading a purchase for the first time or looking to upgrade your tools – is a starting point for your purchasing process of both breaching equipment and ballistic shields.
Included in this guide: 
Key considerations before purchasing tactical entry tools
Top implementation considerations
Questions to ask vendors
To download your free copy of the "How to buy tactical entry tools" Buying Guide from CorrectionsOne fill out this form.
To download your free copy of "How to buy tactical entry tools (eBook)" Buying Guide from Corrections1, fill out this form.