Modular Ballistic Wall by Patriot3 Hits The Market!
---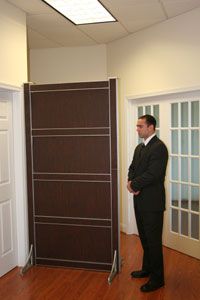 Patriot3 proudly introduces its new Modular Ballistic Wall (MBW), the first complete mobile ballistic barrier system. This truly transportable perimeter wall system provides ballistic protection where ever and when ever you need it with complete versatility. Each section can be assembled in varying heights of 60" and 80", assembles in only a few minutes and can be disassembled for use elsewhere! Each section has the ability to stand alone or can be connected together with other sections to meet a wide variety of protection needs including 360°! The MBW is available in NIJ threat levels 3 and 4 and each section stores in its own protective transport case. Cosmetic options for an attractive, benign appearance are also available. This product has a US Patent Pending status and Patriot3 is the Sole Source provider for the Modular Ballistic Wall.

Request more info from Patriot3
Thank You!