CDCR chooses Kronos TeleStaff solution to keep them on track
The Kronos Telestaff software helps the CDCR manage 35,000 employees across 34 facilities
---
By Ashley Garst, C1 Associate Editor
The California Department of Corrections and Rehabilitation (CDCR) recently switched to a new scheduling software system for its correctional officers and nursing staff. When it comes to managing 35,000 schedules across 34 facilities, the department knew that it needed a more advanced solution that would simplify the old, outdated process.
"We were looking for a new employee scheduling solution; our business partners had seen Kronos TeleStaff and said it was very user friendly," says Ken Ritzman, user project manager of business information systems. "Our partners at the California Correctional Health Care Services [the office of the federal receiver who currently runs prison medical care] said that TeleStaff would also meet their needs, so we embarked on a process of creating a transition from [the old model] to TeleStaff."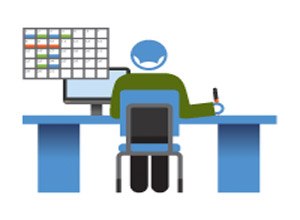 The TeleStaff system was able to help CDCR create a statewide picture of its facilities, which made integration of the existing time management system and TeleStaff much easier. The department now has access to real-time labor data, allowing it to more efficiently manage its workforce through standardization and complete automation of processes.
Before TeleStaff, CDCR was using a single-instance access database, placed on top of an older mainframe application that didn't do any automated calculations. The nursing staff was only using pen and paper.
TeleStaff was able to help CDCR by having each facility build their entire institution's database in order to best address the needs of that specific facility.
"We trained in a live environment; our philosophy is 'what's more important to your daily work than your daily work?'" Ritzman said. "We actually used our production systems, which dramatically reduced the need for support, though we did need support when we went live.
"As each [institution] went live, they acted as mentors for others who were next."
The Kronos TeleStaff solution feeds into the accounting system, and the two systems update each other every night. This keeps everything on track, day by day. It also gives CDCR executives a good financial picture of their institutions.
With TeleStaff, CDCR can assign shifts by seniority, which keeps them in compliance with union and department pay rules. Overtime is also now calculated within hours, and more accurately. This relieves HR staff from needing to spend several days doing manual calculations with the legacy system.
So far, all the feedback has been very positive, and CDCR staff has shown deep trust in the Kronos system.
"When we originally rolled Kronos out, facilities kept the legacy systems turned on just in case," Ritzman said. "We were going to give them a month, to a month and a half to prove that Kronos worked before they turned off the old system.
"The day Kronos went live, they turned off the old system entirely."
With the Kronos Telestaff system in place, CDCR is poised to save $1.5 million annually through better scheduling and overtime accountability.
For more information on the Kronos Telestaff solution, visit their website.

Request product info from top Jail Management Software companies
Thank You!