'Bigfoot' management system helps tackle juvenile facility operations
Dave Mitchell, plant operations manager for the Iowa State Training School, depends on the Bigfoot CMMS to make his team more efficient
---
By Smartware Group Staff
OSHA auditors, food safety examiners, and fire inspectors all get due attention from Dave Mitchell, plant operations manager, for the Iowa State Training School (ISTS) near Des Moines. But for Mitchell and his maintenance team, one responsibility stands above all others: security.
Security issues take center stage because Mitchell and his staff of six technicians are charged with maintaining a safe environment for 130 teenage boys, mostly young offenders who have had troubled lives and are adjudicated to ISTS for education and training, as an alternative to going to prison.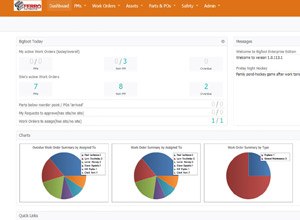 "My main mission is being in charge of life, health and safety," Mitchell says. "Security is our biggest challenge."
In addition to keeping the campus safe for the teen students, the maintenance team also takes care of 32 buildings on the site – all built across a stretch of time, from the early 1900s to 2004. In total, the team maintains 120,000 square feet of buildings, including eight residential units at the 40-acre school that employs a staff of 170, including psychiatrists, physicians, psychologists and nurses.
To manage this broad array of responsibilities, Mitchell depends on the Bigfoot CMMS (Computerized Maintenance Management System) for managing preventive maintenance (PMs) and work orders (WOs), as well as for meeting regulatory and accreditation requirements – and for helping to make his team more efficient.
Walking the halls and securing the tunnel
Like many maintenance managers, Mitchell uses his CMMS to monitor PM calendars and to produce WOs for maintaining typical systems such as sprinklers, HVACs, and boilers. But he also taps the capabilities of his CMMS to create PMs that are unique to his facility.
"We have a PM for walking through the halls for safety and health checks," Mitchell says. In addition to the routine safety checks, Mitchell must also secure a large distribution tunnel that joins buildings together and contains more than a mile of steam pipes, network cables, fire alarms, and other systems. "A permit is required if a person goes into certain areas on the campus," he says. "We have safety work orders for locking out particular locations, such as a vault in the tunnel. And we also have PMs to check on those lock outs." 
Tracking tools for safety in school
Vocational training to develop automotive and carpentry skills gives students hands-on experience with a variety of tools. Those same tools, however, can create security and safety challenges for the maintenance team.
"Anything that can be turned into contraband or a weapon has to be managed," Mitchell observes. "Most students are scared of some of these tools and are pretty cooperative. But others may have ill intentions, so we have to be vigilant in the school where there are ample tools and machinery."
Prior to installing the CMMS, keeping track of tools at the facility was virtually impossible. "We had zero tool accountability," Mitchell says. "Before Bigfoot, we didn't do any inventory for the thousands of tools from all departments. Now, all tools have a number and a location. We treat them as assets."
Earning accreditation and acing audits
Not only has the CMMS proved valuable for staying on top of tool inventory, it helped the school pass an important examination, too. "We underwent an accreditation process through the American Corrections Association (ACA) to prove we take care of our tools," Mitchell says. "This is a body of experts that rates you and gives advice for training and best practices."
"We use our WOs from Bigfoot as process indicators to show we meet the ACA standards," he adds. "This accreditation is important for funding and it demonstrates that our facility meets the criteria as a decent place to be."
The tracking and record-keeping features of Bigfoot also helped Mitchell and his team document their work for OSHA.  Using Bigfoot, Mitchell created several preventive maintenance inspection work orders and in-house forms to carry out requisite safety tasks on schedule.  He was able to show work orders related to particular complaints, as requested by OSHA investigators. Testimonials supported by documents contained in Bigfoot reduce the facility's violations from "willful to less than severe." Mitchell continues to catalog preventive maintenance, and health and safety inspections in Bigfoot.
Pumping up PMs and preventing fires
The preventive maintenance approach helps managers to stay a step ahead of breakdowns and eliminate the constant pressure to "put out fires." And sometimes, PMs can literally prevent fires as well. "The PMs we set up in Bigfoot have helped prevent a lot of failures as far as fire safety equipment," Mitchell explains. "We now have PMs to check oven hoods, exhaust fans, lights and other equipment and that is keeping everyone safer."
Mitchell adds that the ability to expand and adapt PMs has greatly enhanced his team's effectiveness. "The previous approach was to only do what was necessary for compliance. Now we have much more aggressive PM procedures for things like fire safety, where we check for serviceability of alarms and preventive maintenance of key components."
"Bigfoot helped us move from reactionary to planned maintenance" he adds. "We are much more efficient."

Request product info from top Jail Management Software companies
Thank You!