Dazer Laser is effective alternative to less-lethal tools
Laser Energetics' laser optical distracter gives officers a solid method for suppression and control
---
By Drew Johnson
CorrectionsOne Staff
Less lethal is good, but non lethal is sometimes better.
Designed to give users an effective method of suppression and control without the risk of serious injury that may come with less-lethal tools, the Dazer Laser, made by Laser Energetics, Inc., causes temporary vision impairment when shone in a person's eyes.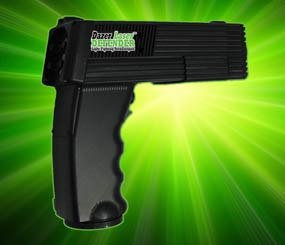 Called a "laser optical distracter," it works by shooting a powerful modulated (pulsing) or continuous wave beam of light up to 2400 meters, depending on the model you're using. When aimed at someone's eyes, the beam causes temporary vision impairment, so that a suspect can only see yellow and green and black.
"With this in your eyes, someone can walk up to you and you wouldn't see them," CEO of Laser Energetics Robert Battis said. "And when a person can't see, you control them."
Battis says the Dazer Laser was designed to prevent the need for escalation to more potentially harmful technologies like pepper sprays, stun guns and firearms. "The Dazer Laser buys you time to make other moves. Once you pull out your stun guns or firearms, you head in a much different direction, one that can cost lives. This device was designed to save lives."
So it's non-lethal, but what about the fact that the tool is shooting a high-power laser into peoples' eyes? Not a problem, Battis says.
The Dazer Laser was tested by ophthalmologists at the Delaware Valley Laser Surgery Institute, who found no damage to the eyes of subjects who were repeatedly exposed to the laser. "It's safer than a laser pointer," Battis said.
The Dazer Laser has potential for a wide range of uses. For military application, the laser would be tremendously effective at pinning down a sniper or illuminating a machine-gun nest. Police could use it to distract suspects while other officers move in. For corrections, the Dazer Laser would be extremely useful during riots or cell extractions, when even a moment's distraction can give officers the upper hand in subduing inmates.
In high light, the laser flashes a continuous wave beam in subjects' eyes. During the night, users can switch to a modulated beam, or use the continuous wave as a powerful searchlight. Each switch, from off to on or modulated to continuous, is accompanied by a gentle vibration.
The laser runs on a lithium battery that can last for up to 600 10-second "dazings" before needing replacement. Both models – the GUARDIAN, which is shaped like a miniature flashlight, and the DEFENDER, which is shaped like a gun – can adjust the diameter size of the beam from .2 to 1 meters.
Security is a relative non-issue. Each model comes with a time clock that is factory-set for 12 or 24-hour use, so if it gets into the wrong hands, it will become unusable in a matter of hours. And each Dazer Laser comes with its own serial number that corresponds with a unique code specific only to that serial number. The code is entered by pressing the Dazer Laser's "on/off" and "day/night" buttons in a set order.
Laser Energetics offers a range of GUARDIAN and DEFENDER models, which are effective from 1 to 2400 meters, depending on the model.
Stewart Kennedy, a detective lieutenant working in New Jersey, says the Dazer Laser offers immediate benefits – effective suppression and control of subjects – and some pretty important secondary ones. Probably most important for administrators is that it eliminates the peripheral costs that arise from the use of less lethal tools, including medical treatment and potential lawsuits.
Another major benefit, Kennedy added, is the low cost of training. "As a police officer, with any type of weapon you have to be trained bi-yearly, but with this you won't because it's non-lethal. The cost saved on training alone could be very substantial."
But for officers – whether police trying to apprehend a suspect or COs trying to extract an inmate from a cell – the important thing is that the Dazer Laser helps them do their job.
"The Dazer Laser is at the cutting edge of law enforcement technology," Kenned said. "It keeps us from putting officers in danger. When you hit someone with this, other officers can move in and take control."
Laser Energetics, Inc. (LEI) was founded by Robert Battis in Orlando, Florida in 1991 and is now headquartered in Mercerville, New Jersey. LEI is the developer of the Brightstar™ Alexandrite laser.

Request product info from top Corrections Less Lethal companies
Thank You!