Cellsense unveils FG1 Search Unit, wall-mounted contraband detector
Detector searches for contraband and cell phones on moving objects
---
By C1 Staff
Cellsense launched their FG1 Search Unit for wall mounted detection of cell phones and other contraband.
The Cellsense FG1 Search Unit scans inmates from head to toe and has a sensitivity that finds cell phones whether they are on or off, concealed on or inside the body. The unit is always on, which means constant monitoring of inmates whether in intake, booking or transport. It searches for materials other than metal, since cell phones can be manufactured with reduced metal content. The unit also scans for other contraband such as blades, shanks or lighters.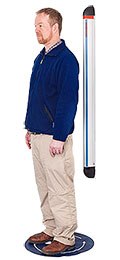 The unit is best for processing or booking spaces since it mounts to the wall, the company said. . Stationary objects are not detected, so the Cellsense FG1 Search Unit can be placed near doors.