How to buy restraints (eBook)
Download this CorrectionsOne restraints buying guide to learn key steps for product selection, purchasing and implementation
---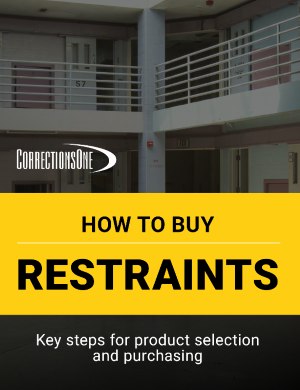 The business of corrections is about protecting the public while ensuring the security and safety of prisoners and correctional officers, both inside and outside the confines of a facility. To that end, correctional and detention officers are tasked with using a variety of devices to restrain prisoners and prevent escapes during prisoner transports to and from courts, jails or prisons, and hospitals.
Officers also apply restraints to control combative or potentially self-harming prisoners. Restraints provide enhanced safety and protection for prisoners, as well as law enforcement and correctional personnel.
This CorrectionsOne How to Buy Restraints guide addresses the issues to consider in choosing and buying restraints.
Included in this guide:
Key considerations before purchasing restraints
Questions to ask vendors
To download your free copy of the "How to buy restraints" Buying Guide from CorrectionsOne fill out this form.
To download your free copy of "How to buy restraints (eBook)" Buying Guide from Corrections1, fill out this form.