Q&A: Why one facility made the switch to safer cleaning products
To prevent inmates from creating weapons from broken mops and brooms, the Western Virginia Regional Jail adopted a set of shank-free products designed specifically for the correctional environment
---
Sponsored by Briarwood Products
By Rachel Zoch, CorrectionsOne BrandFocus staff
Safety is key for any correctional facility, and everyday supplies can be surprisingly risky. It's easy to create shanks or makeshift clubs from hard plastic cleaning tools, but you can't skimp on sweeping, mopping and other basic janitorial tasks that are necessary for the health and well-being of inmates and staff.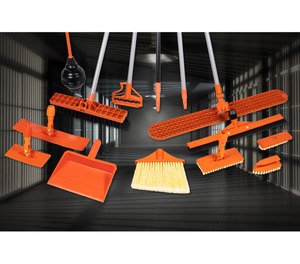 Ronald Spinner is the warehouse and receiving manager for the Western Virginia Regional Jail in Salem, Virginia. CorrectionsOne spoke with Spinner about why he and his facility invested in cleaning tools designed specifically for the unique safety concerns of the corrections environment.
Why did you decide to make a change in your supplies? 
We were having issues with inmates getting assaulted with broken wooden handles from mops or brooms. At that point, we were seeking something that was security-oriented but still something that we could use for janitorial purposes. We started looking and found these products at Briarwood Products.
Tell me a little bit about the operations at your facility. Are the inmates doing the cleaning?
We have inmates – trusties – that clean, and then we do have an opportunity for general population to clean their housing areas. So they have access to the janitorial supplies, the mops and the brooms, those types of things.
How did you find Briarwood Products?
I was surfing the web and I ran across Briarwood and ended up calling and talking to Dayna Piersa, and she actually sent me a few samples of the products. After getting the samples and putting them out there as a test, it seemed like they were going to work really well for us, so we started looking into getting more of the products in here. We have been using Briarwood Products for over two years now. We use the sweep broom, the wet mop, the dust mop, the dust pan, the push broom and the squeegee.
When I did have some questions or concerns about a product that was sent to me, as soon as I called, they jumped on it and took care of my problem. Not only did they hear me, but they acted upon what I was telling them. That's one of the reasons that I'm sold on Briarwood Products. The product is great and the customer service is extremely strong.
What difference has it made in the operations and safety of your facility?
Assaults related to a mop handle or broom handle have gone down drastically. I would even go as far as to say over 40%, which is extremely high. By using the Briarwood products, we don't have to worry about a handle being broken in half or anything like that. It's a very durable product.
The only time that I ever have to replace the product is if the bristles wear out. There's nothing you can do about that. Sometimes the end of the swivel part of the dust mop wears out, or sometimes it does snap, but that's only based on how the inmate is using it. After doing some investigation, a lot of times it's just the inmate doing something with it they really shouldn't be, such as trying to break it.
With anything, if a person tampers with it long enough they can figure out how to break it. And with these, the only minor issue we have had is that they can figure out how to break the attachment from the handle to the head of the dust mop.
What are your corrections officers saying? What about the inmates who use these products?
From the staff, I've only heard positive things. We don't have to worry about broken mop or broom handles being used for an assault.
Of course, the inmates are going to give us negative feedback only because they want to have a reason not to clean. So if something breaks, they have an excuse. Well in this case, they don't have excuses because it hardly ever breaks.
What do you tell other facility managers who are looking for safer products?
I always tell the individuals that have inquired and spoken to me about Briarwood that our goal is to, of course, protect ourselves first, but we're here to protect the inmates as well, and if there's anything that we can do to prevent an inmate to cause bodily harm to the officers or other inmates, we are supposed to focus on that. If you want a product that is durable and shank-free, Briarwood is the product that you want to go with.

Request information from Briarwood Products, LLC
Thank You!