How prisons can afford expensive contraband prevention tools
If you're looking for a more affordable way to get that desired body scanner, here are some creative options to add to your budget
---
Editor's Note: An earlier version of this column incorrectly attributed the purchase of four body scanners to Collier County Sheriff's Office. This mistake has been corrected.
As a corrections officer, a primary duty of the job is taking vigilant measures in order to prevent contraband from entering the facility.
Contraband has always been at the forefront of security policy and prevention, especially after 2005 when many landmark court cases forced correctional facilities to modify their procedures regarding the conduct of blanket strip search for all inmates.
Thorough intake searches in conjunction with a facility wide technical search strategy can assist in removing dangerous contraband threats including cell phones. However, additional high-tech contraband interventions can come with a hefty price tag.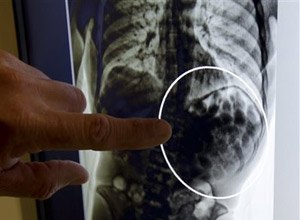 With some careful and creative budget planning, addressing the cell phone contraband threat to a correctional facility doesn't have to take such a big bite out of the annual budget.
Whole Body Imaging
Full body scanners have been in use by airports and correctional institutions for several years. The body scanners of yesterday were able to detect concealed metal on individuals, but with today's technology, whole body scanners can detect both metallic and organic materials swiftly.
In approximately seven seconds of scanning, this technology proves to be not only more time efficient for jail staff, but significant quantities of contraband can be detected and prevented from entering the jail housing units. The whole body scanners can detect cell phones easily in contrast to the older metal detector scanners which could not detect today's cell phones as they are constructed of mostly non-metallic materials.
Collier County Sheriff's Office in Florida has found the purchase well worth the expense and is seeing long term savings in other areas. For example, Collier County scans and repairs damaged mattresses instead of replacing them for fear of potential hidden contraband. This process has demonstrated a substantial savings for their jail budget. Correctional facilities can scan inmate linens and shoes and increase the chances of discovering additional contraband to save on replacement expenses.
Whole body scanner devices are a significant investment for law enforcement agencies; however, manufacturers are often able to construct a payment plan or lease options in order to accommodate varied budgets. Agencies have historically purchased scanners for their jail facilities through inmate welfare funds, drug seizure funds and grant funds.
Managed Access Cell Phone Jamming
In April 2012, the California Department of Corrections announced their intention to implement an inmate telephone system in conjunction with a managed access system which would be paid for by the provider and at no cost to the tax payers. Many other prisons followed suit and implemented managed access systems in order to combat contraband cell phone usage.
The traditional form of funding costs for the operation of inmate phones and managed access systems has been directly paid for through the prison pay phone commissions from inmate calls and jail calling cards. Prepaid telephone cards sold to inmates and their families generated about $352,000 before maintenance and administrative fees for Butler County Sheriff's Office in Kentucky. Calling cards are purchased by inmates through commissary services or from a kiosk in the front lobby of their jail facilities.
Creative Options
As correctional institution budgets shrink and the incarcerated population continues to grow, prisons have gravitated to offering "optional" services to inmates and their families. The New Hampshire Department of Corrections in collaboration with a Missouri-based company now offer inmates downloadable music and internet email access. The company offers transparent MP3 players and other electronic devices directly to inmates for up to $130, of which 10 percent is contributed to the NHDOC recreation fund to pay for inmate activities.
In Arizona, 15 state institutions require a newly implemented one-time $25 fee for adult visitations. This "background check fee" is believed to be the first of its kind nationwide. The City Council in Wichita Kansas has given initial approval for their jail to charge a housing fee to inmates arrested for municipal offenses. Many other jail facilities are charging fees for program participation which includes work release, electric monitoring, substance abuse classes and ongoing medical costs. Additionally, institutions have begun charging fees for services such as: haircuts, drug testing, release escort, laundry, notary services, vending machine usage and weekend-only programs.
For prison staff and administration, possession of cell phone contraband has become an epidemic among inmate populations. Cell phones have been launched over fences into prison yards tied to arrows, or even flown above and dropped into facility yards from small model airplanes or drones. Over the years phones have become more compact and easier to smuggle.
Phones can be easily hidden inside packages arriving in food deliveries, smuggled by self-surrendering inmates and delivered by visiting civilians. As they are a consistently profitable tool for inmates perpetuating crime behind bars and a continual threat to the security of correctional facilities, multiple creative solutions for their detection and confiscation should be considered.

Request product info from top Facility Products companies
Thank You!