Elbeco's Uf/x Performance Tee Shirt Designed to Law Enforcement Standards
---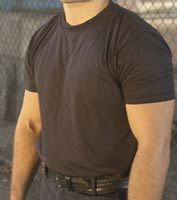 Elbeco continues to innovate uniform technology with the new Uf/x Performance Tee. This synthetic microfiber shirt combines Moisture control, anti microbial and UV protection elements into a performance base layer garment more comfortable and more suited for law enforcement.
Elbeco's new Uf/x Performance Tee provides a cotton feel with synthetic performance. It is powered by X-EEDE permanent anti-odor, rapid wicking & quick-dry technology. Certified for GOOD UV protection (15-24 UPF), the Uf/x™ tee protects not only wearers' skin from the sun's harmful rays, but also prevents color fading in the garment. The tagless neck and exact fit design enhance overall comfort and performance.
Looser Fit - The Uf/x™ Performance Tee Shirt is looser fit, without constriction.
Pill Proof Durability - With a 4 pill rating: high resistance to pilling, picking and snagging.
Microfiber Comfort - Finally, the positive features of a synthetic - like permanently holding color & body - in a fabric that feels like cotton!
Fastest Drying - Permanent Moisture transport system for fast drying and maximum cooling.
UV Protection - GOOD (15-24 UPF) - It has built-in UV protection from the sun, and may be the ONLY Tee shirt fabric available with this feature.
Anti-Microbial - Eliminates bacteria and odor during wear.
Performance Over Time - Lasts like a synthetic vs. cotton
Double Needle Neck - For chafe resistant comfort
Easy Maintenance - Machine wash, cold water.
Style Colors - Crew Neck: Black, Dark Navy, White.
HiVis: Lime/Yellow.
V Neck: White.
Uf/x Performance Tee NTOA tested & recommended.
Elbeco's new Uf/x™ Performance Tee comes to market with a stamp of approval from the National Tactical Officers Association, receiving Member Tested Recommended Status. The first performance base layer garments designed specifically for Law Enforcement use, Uf/x received an overall score of 4.17 on a scale of 1 to 5.
An officer testing the Uf/x™ Performance Tee noted, "The t-shirt fit extremely well and gave good support. It is lightweight and form fitting. Overall impression of the shirt was good as I like the way it fit tight to the body and did not bunch up after a long shift." Testers also mentioned how the tagless neck made the shirt more comfortable.
"The NTOA Member Tested and Recommended program is a great way to see how products will hold up in all weather conditions. Officers and deputies from all over the country field-test products under real-world conditions. The NTOA seal of approval means that the product has been put through the toughest conditions and stood up to law enforcement!"
- Officer Anderson, as seen in The Tactical Edge Spring 2004
The NTOA Product Testing Program provides manufacturers with a process to have their products field tested by at least two groups in the law enforcement community, ensuring objectivity. A uniform is issued to each of the testers to wear everyday while on duty. Products are rated from 1 (poor) to 5 (excellent) in numerous categories including design, performance, ease-of-use, size, quality, durability, storage, versatility, convenience, application, comfort and cleaning/maintenance. The NTOA only gives recommended status to products that score 3.0 and higher.