Elbeco's New Premium Machine-Washable Worsted Wool Blend Public Service Uniforms Provide Exceptional Durability With Consistent Color Matching
---
For Immediate Release
Reading, PA - Elbeco, the leading manufacturer of public service uniforms, now offers a new line of public safety and law enforcement uniforms that provides exceptional comfort and durability with superior color matching in a machine-washable, stretch wool blend. The new PrestigeAdvance™ uniforms are designed for use by law enforcement and public service officers throughout the US.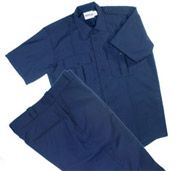 Originally developed by Cleyn & Tinker for the US Navy, the PrestigeAdvance uniform material combines premium, long staple wool with the finest manmade fiber technology for maximum strength and durability. This combination provides the exceptional comfort and durability of wool, while making the garments machine washable and easier to care for. The tropical weave features up to 8% of mechanical stretch giving the garment wearer better movement. Additionally, the PrestigeAdvance is top dyed, where the raw fiber is dyed, spun, and then woven, providing the most accurate color matching of garments available in the public service uniform market.
The new PrestigeAdvance garments include uniform trousers as well as short and long sleeved shirts, all available in dark navy blue for police, sheriff, fire and other public safety departments. Double-needle stitching and Creaset™ permanent pressed creases on the shirts provide a distinguished appearance, while features such as a cotton-lined collar and inner yoke provide maximum comfort.
For ease of movement, the PrestigeAdvance trousers incorporate Elbeco's ComfortStretch™ waistband with silicone strips that keep shirts neatly tucked. The trousers also feature Creaset creases as well as a French fly for added support and Elbeco's exclusive triple stitched crotch to help prevent blowouts.
The new PrestigeAdvance line will be showcased during IACP at Elbeco's booth #1237.
For over 90 years, Elbeco and its distributors have been providing uniforms to Law Enforcement, Fire/Rescue, EMS, Postal, Transportation, and Private Security personnel throughout North America. For further information please contact:

Andrew Foss
Director of Marketing and Communications
800-468-4654 (extension 132)
afoss@elbeco.com
www.elbeco.com
Tex-Trop, Tactical Twill, Duty Plus, Elbeco and designs are trademarks of Elbeco Incorporated. Nano-Dry is a trademark of Nano-Tex. © 2003 Elbeco Incorporated.