Human rights group pushes for change after eighth death at Wash. jail
Group chairman says eight inmate deaths in 14 months "should profoundly concern all of us"
---
By Chad Sokol
The Spokesman-Review
SPOKANE, Wash. — The chairman of the Spokane County Human Rights Task Force said Monday that a recent spate of inmate deaths at the county jail "should profoundly concern all of us."
Eight people in the county's custody have died in about 14 months. Six were men; two were women. Three died after hanging themselves with bedsheets. Mental illness, substance abuse and complications of withdrawal appear to have been common factors.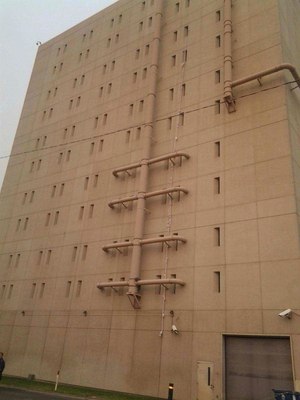 Most recently, a female inmate was found unresponsive in her cell early Saturday and later pronounced dead at a hospital; her cellmate was taken to the hospital hours later due to a "medical emergency," a county spokesman said. Officials have released few details of the incidents, including the women's identities.
The number of deaths appears to top most other jails in the country, although publicly available data on the topic are limited. According to the U.S. Bureau of Justice Statistics, about 1,000 people die in American jails each year, and about a third of those deaths are suicides. From 2005 to 2014, the average annual number of jail deaths in all of Washington state was about 16, according to bureau data.
"It is essential that as a community we stand for basic human rights in all environments, especially for the human rights, dignity and safety of the men and women incarcerated in our correctional systems," Dean Lynch, the task force chairman and a former Spokane city councilman, said in a statement Monday. "We strongly urge the county to investigate what seems to be an alarming trend of inmate deaths and take steps to make changes, evaluate previous recommendations, and implement changes so that future inmate deaths can be avoided."
In a phone call, Lynch added that the county should seek input from other agencies such as the National Institute of Corrections, which recommended a series of policy changes for the Spokane County Jail in 2015.
Jail officials already have hired a consultant, Lindsay Hayes, who is expected to visit in September. Hayes, a nationally recognized expert on suicide in correctional facilities, also visited the Spokane County Jail in 1999 to train staff and offer recommendations after four inmates killed themselves in less than 13 months.
Officials also have decided to stop issuing bedsheets and instead give each inmate two blankets. Sgt. Tom Hill, a jail spokesman, has said the blankets are thicker, harder to tear and harder to tie around one's neck without drawing attention from corrections officers.
Layne Pavey, a local activist for criminal justice reforms, runs a company called Revive Reentry Homes & Services, which helps connect the formerly incarcerated with stable housing. She said there was a time when she encouraged clients to "face their warrants" and turn themselves in to get their jail stays over with, but now she's not comfortable giving such advice.
"Now I'm not sure what to tell them," Pavey said. "Now I'm scared to tell people to face their warrants and go to jail because I do have a legitimate fear that they will die in there."
Pavey, who also sits on a subcommittee of the Spokane Regional Law and Justice Council, said she believes that John McGrath, the county's top jail administrator, has made an effort to improve inmate care, but problems remain.
"What we do know about the jail is that people are constantly calling people to help in emergencies, and the guards are not coming as quickly as they should be," Pavey said. "We hear a lot about the lack of checking on people."
Public records have shed light on several of the recent deaths. Some remain under investigation by the Spokane County Sheriff's Office, and some are pending final determinations from the medical examiner's office, which is awaiting toxicology results from a state laboratory. The sheriff's office ran the jail until 2013, but since then it has been under the authority of the county commissioners. Sheriff's detectives are still tasked with investigating inmate deaths.
McClatchy-Tribune News Service