Poem: Alone Stands the Officer
Correctional officers often find themselves alone and isolated while performing a very dangerous job
---
Calling all poets! CorrectionsOne's poetry column highlights some of the inspirational, moving and funny poems authored by our readers.
This month's poem was written by Gilberto Espinosa, who spent 23 years as a Chicago police officer and eight years as a corrections officer.
Email your original writing submission for consideration to editor@correctionsone.com.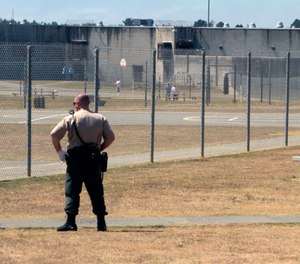 Alone Stands the Officer
Corrections, side by side with elements of danger,
All hours, fatigue no stranger.
Unjustly rated notches below law enforcement personnel,
Quotidian struggle with control of all who dwell.
Corrections, no lax time inside,
Everything is a game of you seek they hide.
Family life seemingly in tatters,
Concentration in your unit all that matters.
Corrections we stand in defense of each other,
It makes all a brother.
One to 48 that's the odds,
The time at work it slowly plods.
Our quick thinking is what we rely,
They of the 48 quicker with a ready lie.
Inside we toil and make our way,
So as to make for home at the end of the day.
Corrections seems aphotic just a cacophony of angry sounds,
Alert and counting as we make our rounds.
Alone we go about keeping our cool,
Because palpable is the resistance of our rule.
They respect a strong voice and a steady hand,
It conveys an officer who has some sand.
We do our best to keep everyone safe,
From the bad contained in this place.