NY governor wants to close more prisons; CO union blasts plan
NYSCOPBA President Michael Powers said prison closures would create a 'powder keg of violence' due to overcrowding
---
Robert Harding
The Citizen
NEW YORK, N.Y. — For the second consecutive year, Gov. Andrew Cuomo is seeking authority from the state Legislature to close correctional facilities.
Cuomo included additional prison closures in his 2020-21 executive budget proposal. The legislation would allow him to close facilities "as he determines to be necessary for the cost-effective and efficient operation of the correctional system," according to the text of the budget bill. He would be required to give state legislative leaders at least 90 days' notice before closing prisons.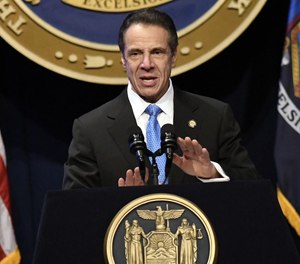 Prison closures were part of Cuomo's budget plan last year. While the state Legislature initially rejected the proposal, the final 2019-20 budget gave the governor authority to close up to three prisons.
Ultimately, Cuomo closed two prisons: Lincoln Correctional Facility, a minimum-security prison in New York City, and Livingston Correctional Facility, a medium-security prison in western New York. The closures eliminated nearly 1,200 beds and will save the state an estimated $35 million.
Cuomo has closed 15 prisons since taking office in 2011. The closures affected minimum-security and medium-security facilities. No maximum-security prisons have been closed.
The New York State Correctional Officers and Police Benevolent Association, the union representing corrections officers, criticized Cuomo's proposal. Michael Powers, the union's president, claimed that while the inmate population has declined by 39% over a 20-year period, prison violence is at record levels.
Powers cited data from the state Department of Corrections and Community Supervision, which oversees the state prison system. Inmate-on-inmate and inmate-on-staff assaults were the highest reported by the agency, according to NYSCOPBA.
"At a time when prison violence is at an all-time high, the governor and the legislature should be working with us and our members to find solutions to make our prisons safer," Powers said. "The last thing we need is incarcerated individuals tightly crammed into prisons, creating nothing more than a powder keg of violence."
Cuomo, who outlined his budget proposal Tuesday, will negotiate a final budget with the state Legislature. The artificial deadline is March 31 — the final day of the current fiscal year. The governor and state lawmakers hope to have a spending plan in place when the new fiscal year begins April 1.
McClatchy-Tribune News Service