CO hospitalized after inmate assault on Rikers Island
The violence comes in the wake of a heated citywide debate on punitive segregation
---
By Chelsia Rose Marcius
New York Daily News
NEW YORK CITY — A correction officer at Rikers Island suffered a broken jaw Wednesday after being choked and punched in the face by an inmate, union officials said.
The officer, who has eight years on the job, was taken to a hospital in Queens for emergency surgery after the alleged attack by 20-year-old Daquan Jones at Robert N. Davoren Complex.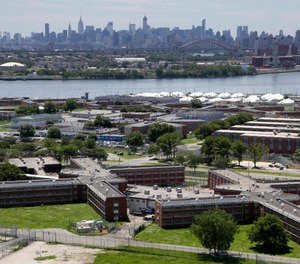 "(Jones) didn't want to go into his cell, (and) as a result, he was punching and swinging at him," COBA President Elias Husamudeen told the Daily News. "The officer just didn't do anything to provoke this."
Husamudeen added that Jones has "been a problematic inmate," noting three other run-ins with Rikers personnel since May when he arrived on assault charges. On Monday Jones reportedly threw urine and feces at a captain's face.
Wednesday's violence comes in the wake of a heated citywide debate on punitive segregation — often referred to as solitary confinement — following the death of transgender inmate Layleen Polanco last month. Polanco, who was in punitive segregation at Rikers after being arrested in April on misdemeanor assault and theft charges, was found dead in her cell. The medical examiner has yet to release the cause of death.
Advocates have since vehemently protested against the controversial measure, calling the practice ineffective and inhumane.
"Solitary confinement is not a place for human habitation," HALTsolitary Campaign outreach specialist Jack Davis, who spent seven years in punitive segregation, told the the Board of Correction, the Department of Correction's oversight body, at a full-board meeting Tuesday in Lower Manhattan. "[It's a] cage within a cage...[We need to] look for alternative means, therapeutic means."
Yet Husamudeen said persistent offenders like Jones — who is under 22 years old and therefore cannot be put into punitive segregation — is an example of why correction officers need solitary confinement.
"How (else) do we protect officers, inmates and civilians from violent inmates?" the union boss asked. "What do we do with the inmates that have proven they have a propensity for violence? What's the alternative? I want to know what the solution is."
©2019 New York Daily News
McClatchy-Tribune News Service