Calif. inmate assaults COs with concrete rock
An inmate ran up and struck a corrections captain in the back of his head with a large concrete rock before attacking others
---
By Louis Casiano Jr.
The Orange County Register
SAN DIEGO — A convicted murderer serving 26 years to life for killing his 11-year-old niece as she slept attacked corrections officers at a prison in San Diego County on Monday, state prison officials said.
William Dawes, 38, who is housed at the Richard J. Donovan Correctional Facility, ran up and struck a corrections captain on the back of his head with a large concrete rock at 9:25 a.m., according to a statement from the California Department of Corrections.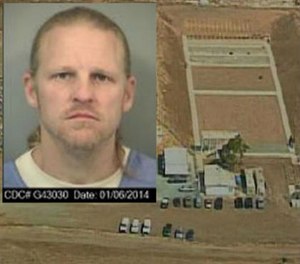 An officer who responded was hit in the face with a rock. That officer was able to get Dawes onto the ground and was subdued by additional officers.
The two injured officers were treated at an outside hospital and released. The captain had a head injury and the second officer suffered face and head injuries. A third officer was treated at the prison for minor injuries. All are expected to recover.
Dawes was treated for minor injuries by prison medical staff and taken to a segregation unit.
Dawes, who lived in Laguna Niguel, was convicted of repeatedly stabbing Sonia Dawes with a 10-inch knife on Sept. 21, 2005. Witnesses testified that the girl was stabbed 35 times.
Police found Dawes walking alone in Irvine two hours after the girl's body was found in a pool of blood by her grandmother. He claimed he heard a voice from heaven ordering him to kill the sixth-grader, but a jury determined he was sane at the time of the crime.
Prosecutors said Dawes had a heated phone call with Lauren Dawes, his sister and the girl's mother, a short time before the attack. He has been at the prison since December 2008, according to a statement from the corrections department.
The prison houses about 3,200 male inmates, the state said.
Copyright 2016 The Orange County Register