2 inmates charged with attacking Conn. COs during prison escape attempt
One inmate shoved the first officer and began assaulting a second who responded to assist; the second inmate ran out of his cell and viciously kicked a female officer
---
By Karen Florin
The Day
MONTVILLE, Conn. — Twenty-one year old Elijah Hamlin, who has struggled with mental illness since he was a young boy, has been charged, along with another man, with attacking three correction officers Friday while attempting to escape from a cell at the Corrigan-Radgowski Correctional Center in Montville.
Three officers were taken to the Backus Hospital in Norwich for treatment. Two were released the same day, and the third, a female officer who was viciously kicked, is recuperating at home, according to the Andrius Banevicius, spokesman for the Department of Correction.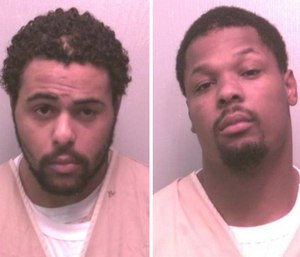 Hamlin, of Norwich, and his cellmate, 27-year-old Kyle McKinnon of New London, were transferred to the Northern Correctional Institution in Somers, a maximum-security prison.
McKinnon is accused of stabbing his former girlfriend on April 10 and is charged with attempted murder.
Hamlin, an Eastern Pequot Tribal member whose struggles with trauma and mental illness have been documented in The Day, needs to remain institutionalized and receive treatment, according to his mother, Vanessa White, and his grandmother, Darlene Hamlin. Both have tried to help him find stable housing and supervision for years. His mother said Hamlin, who is diagnosed with bipolar disorder, complex post-traumatic stress disorder, major depression, attention hyperactivity deficit disorder and adjustment disorder, had gone off his medication and was using recreational drugs and running the streets of Norwich recently.
"He needs help," said his mother, White, who is fighting cancer. "If he doesn't believe in himself, or want to believe in himself, he's going to end up permanently locked up or gone."
Hamlin was being held in lieu of $7,500 bond after being arrested by Norwich police twice on April 15 and charged with first-degree criminal trespass, disorderly conduct, second-degree breach of peace, sixth-degree larceny and two counts of interfering with police.
According to the Department of Correction, Friday's incident occurred when a female correction officer opened the door of Hamlin's and McKinnon's cell to give them a meal. Inmate movement within the facility has been restricted to prevent further spread of the coronavirus.
One of the men shoved the first officer and began assaulting a second officer who responded to assist, according to the DOC. Shortly afterward, the second inmate ran out of his cell and viciously kicked the female officer, who was on the ground helping to restrain the first inmate, in the lower back, then continued down the stairs of the unit.
The second inmate tried but was unable to gain access to the housing unit's officers' station, according to the DOC. Responding correctional staff quickly gained control of the two offenders, and the housing unit was placed on lockdown.
When interviewed by the state, both inmates stated their intent was to escape, according to the DOC. The two offenders never left the housing unit during the incident.
"This incident just goes to underscore the dangers that our heroic staff face on a daily basis, much less during a health care pandemic," Commissioner Rollin Cook said. "I am grateful that the injuries suffered by the brave men and women were not worse. The fact that they sustained any injuries — regardless of the circumstances — assaults on these brave men and women will not be tolerated."
Hamlin's grandmother, Darlene Hamlin, said by phone Tuesday that it breaks her heart to realize that her grandson cannot live without supervision.
"I fear for him," she said. "I really wish they would transfer him into a facility that has treatment for mental illness."
Hamlin's next court date is June 17. McKinnon is due in court June 10.
———
©2020 The Day (New London, Conn.)
McClatchy-Tribune News Service