Ga. sheriff denies allegations he ordered newspapers removed from jail
The ACLU accused Cobb County Sheriff Neil Warren of removing copies of a newspaper containing an article about inmate treatment at the jail
---
Kristal Dixon
Atlanta Journal-Constitution
MARIETTA, Ga. — Cobb County Sheriff Neil Warren is denying allegations that he had copies of a newspaper removed from the county's jail to prevent inmates and staff from seeing an article about the treatment of inmates at the jail.
The American Civil Liberties Union of Georgia said Wednesday it received information that Sheriff Neil Warren allegedly "ordered" staff to remove copies of the Jan. 12 edition of the Marietta Daily Journal from the Cobb Adult Detention Center.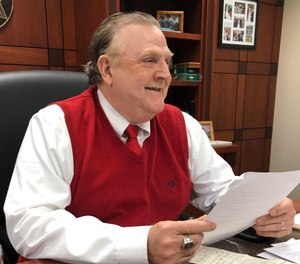 The article recounts complaints of cruel and inhumane treatment inmates say they have received inside the jail and includes denials from jail officials. 
Kosha Tucker, staff attorney with the ACLU, said if the newspapers were removed, Warren's actions could violate the First Amendment of the U.S. Constitution. She said inmates' access to information such as books and other publications helps with their rehabilitation.
"It gives people an opportunity to stay engaged with what's happening in their communities," she said. "They have a right to stay informed and engaged with what's happening in the outside world."
Sheriff Warren said Wednesday in a statement through his lobbyist, Louis Hunter, that he "emphatically denies" the ACLU's allegations of a ban on any newspaper at the Cobb Adult Detention Center.
"The ACLU continues in their attempt to mislead, spin and or inflame issues that are baseless in fact but potentially harmful in their affect," he said in the statement. "The misuse and abuse of the public trust in the ACLU is undermining their stated purpose."
Sheriff Warren, who has been in office since 2005 and is running for re-election to a fifth term, has come under fire from the ACLU and other community activists for the seven inmate deaths reported since December 2018.
The deaths, along with a month-long lockdown, have sparked criticism from residents and families, local activists and civil rights organizations, which are calling on the sheriff to address their concerns about medical care for inmates and jail staffing levels.
Sheriff's Office spokesman Glenn Daniel previously told the AJC that the jail, located in Marietta, has about 2,100 inmates, and receives and releases about 25,000 people each year.
McClatchy-Tribune News Service