Okla. may begin hiring teenagers as corrections officers
The Oklahoma Department of Corrections asked state legislators to lower the minimum hiring age to 18
---
CorrectionsOne Staff 
OKALAHOMA CITY — The Oklahoma Board of Corrections asked lawmakers last month to pass legislation allowing prisons to hire corrections officers as young as 18. 
The Journal-Record reports the ODOC cited difficulty filling hundreds of positions statewide as a reason for the request to lower the minimum age from 20 to 18. Currently, the state employs about one correctional officer for every 11 inmates.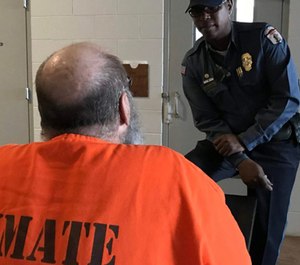 ODOC spokesperson Jessica Brown told The Journal-Record the department regularly loses corrections officers to other, higher-paying public safety jobs. Additionally, she said, because the age limit to apply at many police departments is 19 and the military allows 17-year-olds to enlist with parental consent, many young people don't consider corrections as a career path. 
"Lowering the age from 20 to 18 wouldn't necessarily mean we are going to hire every 18-year-old who applies," she added, speaking to The Journal-Record. "We want to look at it on a case-by-case basis since we know every individual matures at different rates." 
Brown added the positions would still require a high school diploma or its equivalent. 
Corrections officers are concerned about the suggestion of hiring teenagers. Bobby Cleveland, executive director of Oklahoma Corrections Professionals, the statewide organization for Corrections Department staffers, told The Journal-Record he hasn't heard from any COs that support the age being lowered. 
However, Cleveland told The Journal-Record he could support 18-year-olds working in the prison system if they were restricted to low-level roles. 
"I think it could be a good idea for some," he said. "If someone doesn't want to go to college or do whatever, there are plenty of things they can do in the prison system."