Lawmaker: Give inmates photo IDs before release
A proposed bill would require correctional facilities to offer inmates preparing for release the opportunity to apply for driver's licenses or non-operator IDs
---
By Julia Shumway
Associated Press
LINCOLN, Neb. — Giving inmates driver's licenses or other state-issued photo ID cards before they're released from prison will help them reintegrate into society, a Nebraska lawmaker told a legislative committee Thursday.
Sen. Matt Hansen of Lincoln presented a bill that would require correctional facilities to offer inmates preparing for release the opportunity to apply for driver's licenses or non-operator IDs. Newly released inmates often have trouble obtaining IDs because they may not have paperwork such as a paystub, passport, birth certificate, Social Security card or marriage certificate that can be used to apply for an ID. Costs can also be prohibitive for newly released inmates: a one-year ID costs $7.50 and a five-year ID costs $26.50.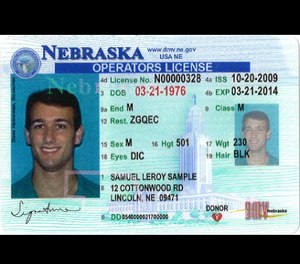 The faster former prisoners get IDs, the faster they can find jobs and contribute to society, said Matt Hill, a vocational life skills coordinator with the Department of Correctional Services. Without a photo ID, individuals can't rent an apartment or hotel room, can't be hired and can't apply for Social Security, Medicare or Medicaid.
"For those entering the community, every minute matters," Hill said. "Every extra moment it takes to gain employment, open bank accounts, establish transportation and apply for general assistance delays their opportunities for success."
Prison volunteer Fran Kaye told the committee she often helps inmates preparing for release obtain ID cards and the paperwork they need. She said it's unfair other inmates who haven't worked with her group don't have that help, and it would be much easier if the Department of Correctional Services handles the process.
"There's so many things that you don't even think about that you need it for," she said. "It's so much easier for people to get back into society if you have that ID."
The Department of Correctional Services now gives inmates ID cards that identify them as recently released inmates.
Those cards carry a negative stigma, and they're not honored anywhere in the community, said Amy Jackson, a peer outreach specialist with the Mental Health Association of Nebraska re-entry program. The money used to print those cards should instead be used for valid state IDs, she said.
The Department of Correctional Services has begun working on how to provide IDs already, said Doug Koebernick, inspector general of the Nebraska Correctional System. Hansen's legislation is "good public policy" that will nudge the department to continue its efforts, he said.
Sen. Ernie Chambers of Omaha, a member of the committee, said Hansen's bill was "past due now."
"The state should say we are restoring your freedom, we are restoring your dignity and now we are restoring your identity," he said.