The code of ethics: Important guidelines or outdated document?
In general, a Code of Ethics should outline what the department considers to be right and wrong or good and bad behavior
---
Dr. Bruce Bayley
In talking with officers across the United States, whenever the term "Code of Ethics" is brought up the response is usually varied. On one hand, a Code of Ethics is seen as a restrictive tool used by the administration or Internal Affairs to limit officers' abilities to do their jobs and, in many cases, discipline them for violations of the Code (real or perceived). On the opposite end of the spectrum, others see a Code of Ethics as an ideal to which officers should strive. After countless discussions with individuals from all facets of the profession, however, one essential question still remains: Why do departments have a Code of Ethics?
What is a Code of Ethics?
In general, a Code of Ethics should outline what the department considers to be right and wrong or good and bad behavior. It also signifies a professional identity within the field, and serves as a marker or guideline for personal and departmental evaluations. What this actually entails, though, seems to be quite subjective. To further investigate what a Code of Ethics is and how it's used in modern corrections, I recently collaborated with my Research Methods class to review Codes of Ethics from state, county, and city departments across the United States. The intent of this brief and somewhat non-scientific study was to begin the process of answering the fundamental question posed above. In the end, our results left us with more questions than answers.
How are Codes of Ethics Being Used?
To begin, each student was randomly assigned six to eight states and was then required to randomly select a Code of Ethics from one state department, two county departments, and two city departments. Students initially expected to find the Codes easily available through department websites, but in reality, this was far from the truth. Overall, less than 50 percent of departments had their Code of Ethics readily available on-line, and of the 48 percent that did, only 32 percent had their Code in a location that was relatively easy to find. The remaining 68 percent required anywhere from moderate to extensive searching to finally locate the document. Smaller agencies tended to do a better job of making their Codes available when compared to larger departments.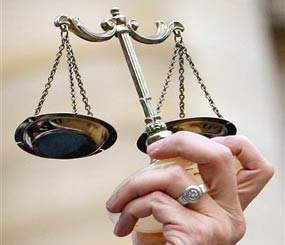 Even more surprising were departments that didn't appear to have any Code of Ethics. Of 186 departments surveyed, 19 (or just over 10 percent) either didn't have a Code of Ethics or were unaware if one existed. While this number isn't large compared to the overall sample, it does raise questions as to the importance of what we thought might be a fundamental founding document.
In general, among the 167 departments that did have a Code of Ethics, 153 (about 92 percent) either used the International Association of Chiefs of Police (IACP) Code or a version that contained minor modifications to the IACP model. This is not surprising, as the IACP readily encourages departments to adopt and standardized their policies and documents in accordance to IACP guidelines. It does, however, raise some interesting questions:
1. If departments simply "copy and paste" from the IACP Code of Ethics (many failing to credit the organization for its content), what real value does the Code have?
2. Why don't more departments modify the IACP Code to fit the needs and demographics of those they serve (for example, state versus county)?
3. How often, if ever, are Codes of Ethics reviewed and up-dated (maintaining their relevance to the department, the officers, and the public they serve)?
4. Given the diverse missions facing corrections today, why aren't corrections departments developing Codes of Ethics specific to the profession? Interestingly, only 2 of the 167 departments (approximately 1 percent) had a Code of Ethics that was written for exclusively for corrections.
What Do You Think?
Being a retired Correctional Officer who is also a non-traditional academic, I firmly believe in learning from those who are currently in the field and doing the job. As such, my class and I are asking for your input regarding the use and value of a Code of Ethics. To this end, we've developed a short 11-question survey to assess your general feelings and attitudes. The survey should only take a few minutes to complete and we'll present the results in an up-coming article. Please click here to take the survey.
In addition, if you are able to send me a copy of your department's Code of Ethics (or a link to it), I'll be happy to add your document to my national database. Click here to send me an email.
In closing, I would like to thank my Research Methods class who are co-authors on this initial study (Justin Homer, Shawn Koji, Caela Mohre, Maribel Nava, Brent Purvis, & Michael Schultz). Without their support, this investigation may have never taken place.
Please be safe in all you do.