Mich. to pay $100M for inmate abuse
---
By Douglas J. Levy
Michigan Lawyers Weekly
LANSING, Mich. — When a class-action lawsuit involving 500-plus Michigan female inmates claiming sexual assault began, Bill Clinton was about to be re-elected president.
When it ended, Barack Obama had just celebrated six months as commander in chief.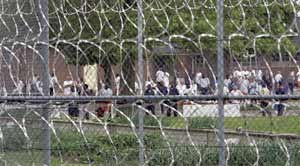 The suit could well have gone another eight to 10 years and could have cost the state in excess of $1 billion.
But, "We wanted it to end," said Michael L. Pitt, who was one of nine attorneys representing female inmates both inside and outside prison walls. "The trauma of going forward was immense for everyone. "
So, on July 15, a $100 million settlement was reached in Neal, et al., v. Michigan Department of Corrections, et al., and Anderson, et al., v. Michigan Department of Corrections, et al., two 2008 cases that were the first of several jury trials stemming from allegations of sexual assault and harassment by male prison guards.
Washtenaw County Circuit Court Judge Timothy P. Connors gave preliminary approval of the deal, which also calls for the state dropping appeals in two satellite suits involving female prisoner abuse: Mason, et al., v. Granholm, in U.S. District Court, Eastern District of Michigan, and LaCross, et al., v. Zang, et al., in Washtenaw County Circuit Court.
Plaintiffs in those cases will be compensated as part of the Neal and Anderson settlement funds.
The agreement ends 13 years of obtained stays, interlocutory appeals and legislative action. To date, it is the largest settlement of 2009 as reported to Michigan Lawyers Weekly.
Fear, intimidation, and constructive notice
The case dates back to the 1996, when lead counsel Deborah A. LaBelle of Ann Arbor and Pitt, of Royal Oak-based Pitt McGehee Palmer Rivers & Golden PC, first filed suit against the Michigan Department of Corrections (MDOC) and its high-level administrative personnel.
Pitt said the plaintiffs reported the abuse started around 1991. Out of fear of retaliation, the inmates did not tell anyone about it until they were in a safe environment. This meant, in most cases, waiting to be released from prison.
"You have to imagine what it would be like to make a claim against the guards when they control every aspect of your life," Pitt said. "... They can do virtually anything they want, so women would tend to not want to complain about them. "
The MDOC's argument was that it could do nothing its officials had no knowledge of.
But, Pitt said, members of the administration knew the women were in a hostile pri-son environment, where rapes, sexual assaults, harassment and intimidation were routinely occurring, that it was pervasive, and that they failed to take appropriate and remedial action to prevent further harm to the women.
The plaintiffs' legal team established constructive notice by relying on MDOC records of complaints made by additional women in the now-shuttered Robert Scott Correctional Facility in Plymouth Township.
The complaints stated that the inmates were subjected to similar sexual abuse by some of the same guards accused of exploiting the Neal plaintiffs.
From 1993-96, other reports about pervasive sexual abuse of female prisoners in Michigan were released from the Michigan Women's Commission, the U.S. Department of Justice Amnesty International and Human Rights Watch.
Instead of targeting the guards in the suit, claims were filed against the MDOC and its administrative personnel, and for good reason, Pitt said.
"Although you may not have known that Guard A was assaulting Prisoner A," he said, "you had enough notice of a sexually pervasive prison environment that appropriate action should have been taken. "
Pitt added that the plaintiffs' legal experts told the jury what a reasonably prudent administrator would or would not have done under these circumstances.
Tribulations in getting to trial
Plaintiffs' counsel originally considered filing suit under common-law claims, such as assault and battery. However, there were governmental immunities attached to those claims, so the strategy changed to present statutory claims under the Elliott-Larsen Civil Rights Act (ELCRA).
"It's essentially a waiver providing that, if the state violates a person's civil rights, they can be sued," he said.
In part, ELCRA states that Michigan's correctional facilities are places of "public service" in which sex-based discrimination is prohibited.
"All of the damages that could be recovered in a common-law assault-and-battery claim would be available under an ELCRA claim," Pitt said. "I think it was a wise decision on our part and the key to our success. "
That decision, however, made an impact on the state eight years before the suit ever made it before a jury. In March 2000, the state Legislature amended ELCRA to exempt prisons from coverage under the statute.
"In its discussion, the Legislature was basically looking to outlaw this case," Pitt said. "They specifically mentioned the Neal case as the reason why this legislation was necessary. "
However, a Court of Appeals conflicts panel ruled that the amendment would have prospective application only, and Neal could not be outlawed by legislative fiat.
The decision was taken to the Michigan Supreme Court in 2002. It resulted in a 3-3 vote, as Justice Clifford W. Taylor recused himself because his wife, Lucille S. Taylor, who was legal counsel to the then-Gov. John M. Engler, was involved in legislation regarding prison defense.
As such, the Court of Appeals decision stood.
After three weeks of litigation, on Feb. 1, 2008, the Neal jury returned a $15.5 million verdict for the 10 Scott plaintiffs.
The decision stunned the defendants.
"[W]e had heard throughout earlier settlement discussion that our clients were not going to present well, that there would be jury resentment to criminals who are asking for large sums of money based on situations where many of the women did not complain until it was safe to do so, some years after the fact," Pitt said.
Eleven months later, the eight plaintiffs in Anderson were awarded $8.4 million for assaults that took place at Crane Correctional Facility in Coldwater.
When calculated with interest, the Neal and Anderson awards totaled $46.2 million - nearly double the amount of the initial verdicts.
And because there were hundreds more plaintiffs with outstanding claims - most of them at Scott, Crane and the now-closed Western Wayne Correctional Facility - the plan was for groups of no more than 10 plaintiffs each to be tried at a time.
Defense 'disingenuous' in appeal
But there would be a roadblock in getting the third round of plaintiffs before Connors in June 2009, as the state appealed the Neal and Anderson verdicts.
"The legal defense was that, 'We as members of the administration cannot be responsible for the sexual assaults and harassment, unless we know a particular plaintiff is being harmed by a particular guard,'" Pitt explained.
"'The idea that there is a pervasive cloud of harassment and abusive conduct that permeates the entire facility is not enough from a legal standpoint to put us on notice with respect to an individual claim,'" he added.
But in a Jan. 27, 2009, published opinion, Court of Appeals Judges Mark J. Cavanagh, Kathleen Jansen and Patrick M. Meter unanimously rejected the defense's argument, calling it "fundamentally flawed," "disingenuous" and "muddled. "
Pitt said he wasn't surprised that the court issued its opinion as swiftly as it did - a mere month from the date of oral argument.
"I had an intuition about this one," he said. "The plaintiffs' arguments were so solid, and the presentation was so one-sided. "
After that, Pitt said he knew it would only be a matter of time until a deal was reached.
"There was recognition that the legal options for the state were dwindling," he said. "[Gov. Jennifer M. Granholm] was very much tuned into some of the personal pain and the trauma that the women experienced. I know that because I spoke with her directly about it; she was very much aware of some of the extreme hardship and injuries the women and their families endured. "
Using that as a springboard, Pitt said a portion of the settlement funds is earmarked as "enhancements," for the inmates who complied with the suit and had to tell of their experiences repeatedly.
'Watchdogs on the inside'
The next step in the settlement is coordinating compensation distribution. Mailings have gone out to approximately 10,000 women who were, or still are, incarcerated between March 27, 1993, and July 14, 2009. They will qualify for a portion of the settlement if they can offer reasonable proof of sexual abuse from male prison guards (see "How the settlement will work," below).
"Undoubtedly, we will receive claims from women we have not heard from," Pitt said.
An office has been set up with a full-time litigation coordinator to manage client issues, with legal interns and public interest group volunteers also helping.
Claims must be submitted by Aug. 14, and hearings before Connors will take place Nov. 14. If there are no objections over allocation, distribution will begin Nov. 25.
Although Pitt said the plaintiffs' counsel's mettle was tested throughout, he acknowledged bright spots along the way.
He specifically pointed to the 2004 6th U.S. Circuit Court of Appeals decision, Everson, et al., v. Michigan Department of Corrections, et al., which was argued by LaBelle.
There, the court reversed an order by U.S. District Court Judge Avern L. Cohn, who ruled that gender was not a bona fide occupational qualification for certain MDOC positions.
As a result, Granholm ordered male guards away from women's prisons' housing units and other areas where they can view inmates nude or partially clothed.
Though Pitt calls that decision one of the largest improvements in the prison system, "That hasn't eliminated all of the sexual assaults, because there are still men in the facility who have direct contact [with the female prisoners], and there are reported incidents," he said.
Pitt is confident that such incidents will be reduced because of agreed-upon safeguards from the state, over which the Neal lawyers will monitor and Connors will retain jurisdiction.
"Many of our clients are still on the inside, and they still have access to the phones," Pitt said. "We have our watchdogs on the inside, and violations will be brought to our attention immediately. And the state knows that. "
But Pitt said the epitome of his 35-year career as an attorney was when the Neal verdict was delivered.
"That's when the jurors had the audacity and the compassion to tell the judge that they wanted to make an apology [to the plaintiffs] on behalf of the state of Michigan," he said. "I still get emotional thinking about it. It was a very emotional day, because I saw that through the work of the lawyers, the clients and the jurors, we worked as a community to make a statement ... about the abuses that have taken place and what it meant.
"The state was still in denial at that time," Pitt added, "and they told the jury up to the very end they had done nothing wrong. And when the jurors announced they wanted to make an apology and the judge said, 'Go ahead and do it,' I just stood there in awe. It was a day of perfect justice. Everything came together. "
LaBelle could not be reached by Lawyers Weekly for comment. Spokespeople for the attorney general and MDOC did not return requests for comment.
A Verdicts and Settlements report of Neal, et al., v. Michigan Department of Corrections, et al., and Anderson, et al., v. Michigan Department of Corrections, et al., can be found on our Web site, www.milawyersweekly.com.
If you would like to comment on this story, please contact Douglas J. Levy at (248) 865-3107 or douglas.levy@mi.lawyersweekly.com
How the settlement will work
Of the $100 million that the state agreed to pay to end the 500-plus female-inmate class-action suits, Neal, et al., v. Michigan Department of Corrections, et al., and Anderson, et al., v. Michigan Department of Corrections, et al:
$15,870,700 will go toward a trial pool, in which plaintiffs in the Neal case will receive 67 percent of their jury award, and the Anderson plaintiffs will receive 65 percent of their award.
$37 million will go toward eligible class members who suffered sexual intercourse, oral sex or digital penetration by force from a male Michigan Department of Corrections employee between March 27, 1993, and July 14, 2009.
$18 million will go toward eligible class members who were subjected to a male Michigan Department of Corrections employee's groping, exposing his genitals or masturbating, forcing a class member to touch his genitals, or attempting sexual assault.
$5 million will go toward eligible class members who were sexually harassed or subjected to prurient viewing while nude or partially clothed by a male Michigan Department of Corrections employee.
$1.286 million will go toward an "enhancement" fund for class members who contributed toward the prosecution of the litigation that resulted in the settlement, including deposition, facilitation and mediation appearances.
$1,161,300 will go toward a court-appointed claims master, who will ensure allocations are in compliance, hear class members' award appeals, and award additional appeal points if and where fair and necessary.
The remaining $28 million, along with costs and fees, will go to the plaintiffs' lawyers, who worked more than 30,000 hours on the suits.
The state will allocate payments every October over the next five years: 10 percent in 2009; 10 percent in 2010; 15 percent in 2011; 20 percent in 2012; 20 percent in 2013, and 25 percent in 2014.
Plaintiffs in two satellite suits, Mason, et al., v. Granholm, in U.S. District Court, Eastern District of Michigan, and LaCross, et al., v. Zang, et al., in Washtenaw County Circuit Court are eligible for compensation as part of the Neal and Anderson settlement funds.
Copyright 2009 Dolan Media Newswires