Inmate accused of killing Canaan CO should have been confined, but sanctions suspended
Had sanctions stood, inmate's term in special housing would have run through March 20 - 3 weeks after CO died
---
By Michael R. Sisak and Bob Kalinowski
The Citizens' Voice
WILKES-BARRE, Pa. — A gang assassin turned rebellious inmate, Jessie Con-ui often acted as if the rules didn't apply to him. The people in charge of discipline at the United States Penitentiary at Canaan made sure the punishment for breaking the rules didn't apply to him, either.
Con-ui, known on the streets of the Southwest as "Bling" and "Toker" and within the federal prison system as Inmate No. 04287-748, committed significant rules violations at Canaan twice in the year before prosecutors said he attacked and killed Correctional Officer Eric Williams on Feb. 25.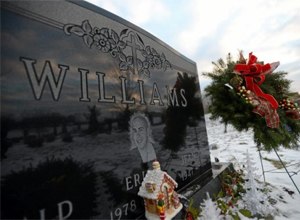 After each infraction, in March and September 2012, discipline hearing officers ordered Con-ui to serve six months in a special-housing unit, a prison within the prison where he was to be confined to his cell for 23 hours a day. Both times, however, the hearing officer immediately reversed that ruling and said the notoriously bellicose Con-ui could remain in general population so long as he behaved.
Had the sanctions stood, Con-ui's term in special housing would have run through at least March 20 - three weeks after Williams died.
Instead, for reasons the warden, the hearing officers and the federal Bureau of Prisons refused to discuss with The Citizens' Voice, Con-ui stayed in the same housing unit, C-Range, where he had lived since arriving at Canaan in October 2011.
There, with little supervision or restraint, the 5-foot-9, 140-pound Filipino immigrant seethed about a shakedown of his cell supposedly ordered by Williams the day before the murder. There, according to prosecutors, he manufactured or obtained a shank, charged at Williams and knocked him down the staircase connecting the unit's upper and lower levels, stabbed the officer 129 times and fractured his skull in multiple places. 
Con-ui confessed less than 48 hours later, according to a psychological report obtained by The Citizens' Voice.
Con-ui, 36, said he felt "disrespect" and "overreacted" after Williams, 34, ordered two officers to shake down his cell, according to the report.
Williams' mother, Jean, sighed earlier this month as she learned of the leniency that allowed Con-ui to remain in general population.
A room in the family's Nanticoke home is filled with larger-than-life portraits of a smiling Williams and the mementos of his life and death: memorial medallions and mugs marked "end of watch," engraved clocks and shot glasses, a blanket signed by his Canaan brethren and a framed American flag.
"Shouldn't have happened, right?" she said.
The Citizens' Voice has reported extensively over the last 10 months on the policies, cutbacks and lapses that left Williams susceptible to attack. They include the assignment of one officer to a unit of 100 or more inmates, the bureau's reluctance to arm officers with pepper spray and the leniency that allowed Con-ui to remain at large within the greater Canaan community.
"The so-called system failed, somehow," Williams' father, Don Williams, said.
"There's too many wrongs," Jean Williams said.
The Voice obtained Con-ui's disciplinary record, his transfer report and other closely guarded Bureau of Prisons documents; interviewed officers and officials with direct knowledge of the attack and of the discipline process at Canaan; and consulted former federal prison wardens on disciplinary procedures within the system and had them review Con-ui's record and other documents.
The Voice found a stark shift in the way Con-ui was disciplined in the federal system, from a near zero-tolerance approach for even minor offenses when he arrived in September 2008 at the United States Penitentiary at Victorville, Calif. to the leniency and forgiveness at Canaan that permitted him to remain in the general population despite multiple serious offenses.
That change in disciplinary philosophy - at least in the case of the violent Con-ui, who gunned down a gang rival outside a Phoenix, Ariz., laundry facility in 2002 and conspired in a cocaine-trafficking ring that led to federal charges and an 11-year sentence - came as political leaders and civil liberties groups pressured the Bureau of Prisons to reduce the number of inmates in special housing and solitary confinement.
The director of the Bureau of Prisons, Charles E. Samuels Jr., told a House subcommittee in September 2013 that the bureau was "in the midst of making significant changes" to its special-housing unit policies and procedures, but did not specify what they were.
At the hearing - held nearly a year to the day after a discipline hearing officer at Canaan reversed Con-ui's second special-housing term - Samuels said the bureau had already decreased the number of inmates in special housing in the last year by 25 percent "primarily by focusing on alternative management strategies and alternative sanctions for inmates."
Samuels expanded on his comments in November, telling a Senate subcommittee the bureau reduced the number of inmates in restrictive housing to about 9,300 from 13,500 in June 2012, in part by stressing to wardens "that we only use it when absolutely necessary."
At the same time, at a federal prison complex in Florida, the bureau started putting a price on its special-housing goals, tying the population reduction to the performance reviews used to determine bonuses for wardens and other high-ranking officials. The bureau would not say whether those performance goals applied to wardens at other facilities, including Canaan.
A Bureau of Prisons spokesman declined to discuss the "significant changes" Samuels mentioned, and would not address how the bureau achieved the 25 percent reduction or what impact, if any, a system monitoring "average disciplinary sanction time" across the federal prison system had on the autonomy of discipline hearing officers to impose sanctions.
"We won't be addressing these questions at this time," the spokesman, Chris Burke, said on Dec. 18.
The Bureau of Prisons did not respond to questions about the Con-ui case or the inclusion of special-housing reductions on the performance reviews at the Federal Correctional Complex at Coleman, Fla.
The warden at Canaan, David Ebbert, declined an interview request.
"Although we appreciate your interest in the Bureau of Prisons, and specifically, USP Canaan, Warden Ebbert has declined your interview request, at this time," Paul Gibson, acting executive assistant at Canaan, said in an email on Dec. 19.
Darrell Palmer, the president of the union at Canaan, AFGE Local 3003, warned against publishing this story, saying it would give "ammunition" to Con-ui's attorneys and harm the chances of a conviction and a death sentence.
"Right now, there's a lot of sensitive information out there that can hurt this," Palmer said Dec. 13.
Con-ui's court-appointed attorneys, James Swetz, of Stroudsburg, and Mark Fleming, of San Diego, Calif., did not return multiple telephone calls.
U.S. Rep. Matt Cartwright, who attended Williams' wake and met with his family in the months after, called the suspension of disciplinary sanctions for Con-ui "disconcerting" and called on the Bureau of Prisons to answer for the hearing officers' decisions.
"If Jessie Con-ui should have been in solitary confinement at the time, that's a legitimate question, and whether Eric Williams and other correctional officers were made fully aware of Con-ui's prison record and the special danger that he presented," said Cartwright, D-Moosic. "These are legitimate questions that you're raising. I want to know the answers."
Red flags, little action
Upon entering the federal prison system, Con-ui maintained the street-tough persona and the disregard for authority he developed as an enforcer for the New Mexican Mafia. Inside the walls of a penitentiary, he remained a grave threat.
He attacked fellow inmates, used drugs and/or alcohol, trespassed in off-limits areas, engaged in disruptive behavior and threatened bodily harm to a correctional officer, all before prosecutors said he killed Williams.
Asked why he attacked the inmates at a federal penitentiary in Pollock, La., in November 2010, Con-ui told a discipline hearing officer, "It was one of those days," according to his disciplinary record.
All told, Con-ui violated the Bureau of Prisons' code of conduct 11 times in the 4½ years he lived in federal custody before the attack on Williams. Three of the violations were in the greatest severity level, 100. Three were in the second highest severity level, 200.
For the first nine infractions, committed at either Victorville or Pollock, Con-ui spent a combined 508 days confined to restricted housing, or 45.1 percent of his first 1,126 days in federal custody prior to a disciplinary transfer to Canaan in October 2011.
Rated a high-security institution, one rung below super-maximum, the facility in Wayne County houses more than 1,400 inmates, including some of the world's most vile violent and high-profile offenders. Among them: Somali pirate Mohammad Shibin, al-Qaida conspirator Abdul Kadir and Medellin drug trafficker Juan Matta-Ballesteros.
Con-ui stayed at Canaan for 511 days. He committed two major infractions, for using another inmate's telephone account to make more than two-dozen calls in March 2012 and for using drugs and/or alcohol in September 2012. Because the discipline hearing officers excused him from the special housing sanctions, he spent zero days in segregation, known to inmates as "the hole."
"I don't have a good reason for why the hearing officers in both those cases would make the decisions they did," said Allen Turner, a former federal prison warden who is the associate director of the Center for Justice Leadership and Management at George Mason University in Fairfax, Va. "On the surface of the inmate's background - he's failed at two penitentiaries, he's involved in drugs or alcohol, he's been involved in a series of phone abuses, he's a New Mexican Mafia guy - that would raise a lot of red flags."
Another former federal prison warden who reviewed Con-ui's disciplinary record at The Voice's request said the repeated suspensions of punishment defied the logic of the inmate discipline system.
"I don't get it," said the former warden, who spoke on the condition of anonymity to avoid conflict with his current employer. "Does that jump out at me? Yeah. And then to do it again? Why would they cut him such a big break and then do it again?"
A correctional officer at Canaan, who spoke on the condition of anonymity for fear of reprisal from staff and colleagues, said the most serious, 100-level offenses, "would definitely" send an inmate to the special-housing unit, but not always for the full length of the sanction due to overcrowding.
At Canaan, the officer said, the special-housing unit "is so filled up with guys who commit violent acts. Say they were sanctioned to 180 days, they might let them off early after say 100 days. You might run out of room. There's so many violent acts happening all the time. The (segregation unit) gets so filled up, you have to cut guys' sentences short."
Palmer, the union president, said the special-housing unit at Canaan is often at or near capacity, forcing the discipline hearing officers to carefully weigh the significance of each violation - known within the prison community as a "shot" - and whether it warrants taking up a slot in segregation.
"It's population control is what it boils down to," Palmer said. "If you have 150 beds in a housing unit, you've got to use your head. Something like the phone abuse shot, something like that, do you send him to seg for that, or do you take away other things and leave him on the compound? You make decisions and you live with them."   
Con-ui's first "shot" at Canaan came on March 30, 2012, when officials charged him with using the telephone account of another inmate and making 27 calls to the same number, an abuse of his phone privileges and a disruption of the prison's ability to monitor inmate conversations.
Turner said the number of calls and the secretive nature of Con-ui's conduct indicated "he's still involved in some sort of gang activity."
Con-ui admitted to the phone abuse scheme and, at an April 26, 2012, hearing, discipline hearing officer Marc Renda ordered him to spend 180 days in segregation. Immediately after, however, Renda suspended that part of the sentence citing the bureau's 55-page memorandum on discipline, which permits a hearing officer to "suspend one or more sanctions."
Renda, 43, did not answer the door when a reporter visited his home on Dec. 12. A telephone number listed for him was not in service.
In Con-ui's phone abuse case, Renda issued additional sanctions, but only enforced some: the loss of 27 days of "good-conduct time" to demonstrate the "seriousness" of the act, the loss of recreation privileges for two months, commissary privileges for a year and use of the telephone - considered by inmates a vital link to the outside world - for 18 months.
A well-behaving inmate can earn up to 54 days of "good conduct time" per year. Those days, barring a loss of some or all due to sanctions, are subtracted from an inmate's sentence, accelerating his or her release.
Renda banned Con-ui from having visitors, another privilege considered vital by inmates, or using email for 18 months and fined him $200, all "to deter further behavior." Renda, however, suspended those punishments for 180 days as well, so long as Con-ui behaved himself.
He lasted 129 days.
On Sept. 2, 2012, Canaan officials charged Con-ui with using drugs or alcohol, a serious, 100-level discipline violation because of the incendiary effect foreign substances have had on inmates, like the suspects in the murder of Correctional Officer Jose Rivera in Atwater, Calif., in 2008.
"Using drugs or alcohol is considered one of the most egregious offenses in federal prisons," said the former warden who spoke on the condition of anonymity. "Where you find hooch, there is surely violence to follow."
The disciplinary report did not indicate whether corrections officers found drugs or alcohol on Con-ui's body or in a search of his cell, or whether he failed a urine test.
A discipline hearing officer, Kylie Bigart, found Con-ui committed the violation and, at a Sept. 20, 2012 hearing, ordered him to spend 180 days in segregation.
Like Renda, Bigart suspended that part of the sentence for 180 days "pending clear institution conduct," even though Con-ui had violated that provision of his previous suspended sanction.
Bigart, a case manager who occasionally filled in as a hearing officer, enforced other, less severe penalties. She stripped Con-ui of 41 days of good conduct time, barred him from the commissary for a year, from having visitors for six months and from using email for a month.
Con-ui's previous violation for using drugs and/or alcohol, at Victorville in April 2010, cost him 15 days in confinement and eight months of visiting privileges.
Bigart, 35, refused to discuss the case when a reporter visited her home on Dec. 12, saying only, "I did my job."
According to the bureau's discipline memorandum, though, she could have done much more by imposing, "increased sanctions for repeated, frequent offenses." The former wardens who reviewed Con-ui's disciplinary record said she should have done more.
Con-ui's second violation, only five months after his first discipline hearing at Canaan, could have triggered the reversal of his previously suspended sanctions and an automatic stay in special housing.
According to the bureau's guidelines, an inmate committing an offense in the greatest severity level, like using drugs or alcohol, within 24 months of a prior offense could face up to 18 months in disciplinary segregation.
Con-ui, who committed a second offense five months after the first, didn't spend a day in disciplinary segregation.
"If the inmate was a danger to staff, then he should have been put away," said Turner, who served as warden at several federal prisons including the former super-maximum penitentiary at Marion, Ill. "That's a management problem. That's the warden and his staff not paying attention as far as what's going on with what the discipline hearing officers are doing."
158 days after the hearing and the second suspended punishment, Eric Williams was dead.
The price of pressure
The leniency that allowed Con-ui to stay in the general population at Canaan after he was sent to segregation for lesser offenses at other institutions, came at a time of weakening support for special housing and solitary confinement from political leaders and the bureau's leadership.
Six weeks after he entered Victorville, Con-ui spent 17 days in segregated housing for his first two violations of federal prison rules - for refusing to obey an order and acting insolent toward a staff member in October 2008.
Sending an inmate to segregation for those relatively minor, 300-level offenses at Canaan in 2013, "is unheard of, unless the guy did something that's crazy," the officer who spoke on the condition of anonymity said.
Con-ui entered the federal prison system in September 2008, three months after the murder of Correctional Officer Jose Rivera exposed deep flaws in the discipline system at his penitentiary in Atwater, Calif.
A Bureau of Prisons investigation into Rivera's death found the special housing unit at the prison was "always full" and that many inmates sent to segregation for rules violations either remained in general population or were released back to general population early.
The discipline hearing officer at Atwater told investigators a "higher than normal" number of incident reports for assault were being thrown out because staff members were missing deadlines or misplacing paperwork.
The hearing officer "felt the lack of enforcement of the disciplinary process has led inmates to believe they will not be held accountable for their actions," a report on the investigation said. "This leads to a dangerous environment for staff and inmates."
By the time Con-ui moved to Canaan, three years later, the bureau faced mounting social and political pressure to reduce or abolish its use of special housing segregation and solitary confinement.
Sen. Dick Durbin, D-Ill., convened a Senate judiciary subcommittee hearing in June 2012 titled "Reassessing Solitary Confinement: The Human Rights, Fiscal, and Public Safety Consequences." There, as senators questioned the effects of confinement on mental health and inmate violence, Samuels, the Bureau of Prisons director, defended the use of segregation as a tool to maintain safety by separating out inmates who engage in "willful misconduct."
"If you have individuals who have the propensity to harm others and in many cases who have killed other individuals, these are individuals who have proven that they're going to require a restrictive form of confinement until it's proven otherwise," Samuels said.
Samuels, answering a subsequent question, conceded the bureau could consider alternatives to segregation to cut costs. By one estimate, keeping an inmate in segregation costs three times more than in the general population, because of the extra officers and other staff required to keep inmates there under strict supervision.
In February, the bureau agreed to pay the nonprofit consultant CNA Analysis and Solutions $498,211 to study its use of segregation and solitary confinement. Durbin, who pushed for the study at the June 2012 hearing and discussed it in subsequent conversations with Samuels, issued a statement calling the use of solitary confinement in U.S. prisons "a human rights issue we can't ignore."
Durbin's press secretary, Max Gleischman, did not return telephone and email messages left Dec. 17.
The Bureau of Prisons added a financial incentive to compel officials at the largest correctional complex in the federal prison system, in Coleman, Fla., into a vast reduction of the special-housing population.
The bureau incorporated the reduction into the performance measures used to determine the bonuses for two senior officials at Coleman for the fiscal year that began Oct. 1, 2012, according to copies of the performance reviews: Tamyra Jarvis, the warden of the complex, and Charles Lockett, the warden of one of its two penitentiaries. The goal also appeared on a performance work plan for Lawrence Howard, a correctional officer supervisor at Coleman. His yearlong evaluation period began April 1.
In six months, the total number of inmates in restricted housing at the complex fell to 443 from 836, a drop of 47 percent, according to a mid-year review of the performance measures in March. The reduction led to the closure of the special housing unit at the low-security prison on the campus, eliminated the need to transfer inmates to the special housing units at other institutions and cut overtime expenses by more than $511,000.
The performance measure, part of a list of Justice Department strategic goals and Bureau of Prisons goals on everything from accountability to cost-control, was one of dozens tied to the bonuses paid to top-level administrators at the Coleman complex.
Wardens who meet all performance qualifications receive a bonus equal to 10 percent of his or her salary. Ebbert, for example, earns $154,301 per year as warden at Canaan, according to GovernmentSalaryData.com. Jarvis and Lockett at Coleman earn $155,969 and $150,131, respectively.
In 2010, wardens across the system received a total of $412,500 in bonus money and the six regional directors received a total of $109,900. The director of the Bureau at the time, Harley G. Lappin, alone received a $22,000 bonus, according to documents obtained by The Voice.
The bureau would not say whether its goal to reduce the special-housing population translated into performance incentives at Canaan and other facilities.
Palmer, the union president, said senior officials at Canaan receive bonuses for "overall operational savings," not "reducing population in the special housing unit."
"This warden doesn't mess around," Palmer said. "If management feels someone shouldn't be on the compound or if this is something where a guy needs to go to seg or needs to be transferred, they do it."
The Citizens' Voice filed requests under the Freedom of Information Act on Nov. 27 for the performance work plans and executive pay and performance appraisals for the wardens, discipline hearing officers and other staff at Canaan for 2010, 2011, 2012 and 2013.
The Voice also requested base pay, bonuses and other compensation awarded to all wardens, regional directors, chiefs and deputy chiefs and discipline hearing officers, as well as the executive staff, including the director of the Bureau of Prisons, for 2010, 2011, 2012 and 2013.
The bureau has yet to respond.
Female employees at Coleman said the bureau's emphasis on reducing the flow of inmates to special housing has limited their ability to fight the perpetual sexual harassment they endured from inmates left in general population - unpunished and undeterred despite their repeated complaints.
The U.S. Equal Employment Opportunity Commission in April certified a group of at least 363 female employees at Coleman for a class-action lawsuit against the Bureau of Prisons. The women contend officials at the prison complex limited the number of incident reports they could file, instructed one woman to "stop writing so many incident reports about sexual acts," threw away incident reports about sexual conduct by inmates and coerced women into writing incident reports for lesser offenses.
'Shouldn't have happened, right?'
Officers at Canaan said Con-ui blindsided and overpowered Williams as he patrolled the bi-level C-Range at lockdown between 9:45 and 10 p.m. Feb. 25. Con-ui, the officers say, hurled Williams down a concrete staircase and pounced, stabbing him repeatedly with a makeshift blade.
The attack came so suddenly and with such force, Williams never had a chance to call for help or trigger the body alarm on his hand-held radio.
"Before he could even react, the inmate was on him," one officer said.
As Williams lay at the foot of the stairwell, battered, bloodied and dying, the inmates of C-Range stood idle. Each cell at Canaan has a duress alarm for inmates to alert the prison's control center of an emergency, but none of them sounded it during or after the attack.
"A hundred and some men stood there and did absolutely nothing to interfere and nothing to help," said Williams' father, Don. "These are the kind of men that you're talking about. Nobody did anything."
No one outside the thick concrete walls of C-Range knew anything had happened. No one thought to look for Williams until an officer noticed he had not returned from the housing unit at the end of his shift. By then, with all that had been done to Williams, it was too late.
"It's kind of a no-brainer that we had a closed-casket funeral, that's what this guy did," said Don Williams. "This was not just somebody who walked up and shot him or something. He did some damage."
Don Williams and his wife, Jean, awoke to a knock on the door from Ebbert, Palmer and the prison's human resource officer, Russ Reuthe around 1:30 a.m., nearly four hours after the attack.
Don wondered if his son was hurt. Williams' sister, Lauren, thought maybe he had been in a car accident. That he had been killed, Jean said, "never crossed my mind until they came out and said it."
Once the Williamses knew what happened, the early morning of Feb. 26 became a blur of shock and sorrow. Don remembered feeling like his "brain shut off." Jean said she acted "like a robot," focusing on peripheral tasks like making sure everyone had shirts to wear to the funeral. The reality of their son's death, they said, simply didn't sink in.
"Anything they said after 'passed away,' I don't have a clue," Don said.
Canaan went on an indefinite lockdown within hours of the attack. Officers identified Con-ui as the suspect and placed his hands and feet in restraints to prevent further violence. By 3 a.m. on Feb. 26 he had been cleared for transfer to the U.S. Penitentiary at Allenwood, south of Williamsport. He arrived at the health services unit there at 5:20 a.m., still in restraints.
The next day, Con-ui submitted to a mental-health evaluation and told Allenwood staff psychologist John R. Mitchell he killed Williams over "disrespect."
Con-ui said he had "swallowed a lot" from Williams and could no longer tolerate it, according to a report on the evaluation, conducted ahead of a transfer to the super-maximum security penitentiary in Florence, Colo.
Before the attack, Con-ui had been scheduled to leave federal prison for Arizona in September to start serving his life term for the 2002 murder. Unlike in the federal system, where general population inmates are free to roam about their cell blocks, Con-ui would have been kept in maximum-security isolation for 23 hours a day because of his gang affiliation.
The day before the killing, Con-ui said, Williams ordered two officers to shakedown his cell for contraband.
The officers "tore my house apart," Con-ui said, according to the report. "Everything was on the floor, food on the floor, my things everywhere."
Con-ui said he realized after killing Williams that he had "overreacted."
Con-ui did not exhibit signs of mental illness nor did he object to the transfer to Florence, nicknamed the "Alcatraz of the Rockies," despite 23-hour confinement, frequent cell searches, increased supervision and strict limitations on personal property.
"I just want to do my time here. It's just about doing time," Con-ui told Mitchell, according to the evaluation report.
Turner, the former warden who teaches at George Mason University, said Con-ui's record as a gang killer and the most egregious of his misconduct violations - threatening an officer and assaulting inmates - made him a prime candidate for Florence long before Williams' death.
"Why did it take the death of an officer to get to that point?" Turner said.
If Con-ui treated Williams with hostility or if he lashed out after the shakedown, Canaan officials should have moved him to special housing, at least temporarily, to put distance between them, Turner said.
"(Con-ui) would have been vocal about it," Turner said. "He would have been raising hell because his cell was torn up. That would have been a clue that everybody ought to be on their toes and not leave Eric Williams in there to get blindsided."
Williams' parents have been grasping for answers ever since his death. They pick up scraps of information from meetings with the FBI and federal prosecutors and from conversations with Williams' colleagues and union officials. They try to separate fact from innuendo and they remind themselves not to ask or repeat too much, for fear of spreading misinformation or jeopardizing the trial.
"We ask them, but don't," said Don.
"We're afraid what the answers are," said Jean. "The trial is going to bring it all out. The trial is going to be hard."
The Williamses knew nothing of Con-ui's disciplinary record or of the leniency that allowed him to remain in general population until The Citizens' Voice shared copies of the reports with them.
"We were told that he had good behavior, Jessie, that there was no reason to lock him up, that he had good behavior," said Jean.
They were unaware of Con-ui's psychological evaluation or the apparent confession in which he said he "overreacted" to the shakedown of his cell.
"Put him in here and you'll see an overreaction," said Don.
The Williamses spoke for more than an hour about their son, his death - the 25th Bureau of Prisons employee killed in the line of duty - and the case against Con-ui.
They sipped coffee at a kitchen table adorned with a small holly plant. It was the only Christmas decoration in a home they said was too pained for the joy of a holiday that came 10 months to the day after Williams' death.
"He never talked about how dangerous it was. They said that's kind of code up there - that none of them tell their families about how dangerous that job is," said Jean. "They don't like to share what goes on. They don't want to upset their families."
Con-ui pleaded not guilty in July to charges of first-degree murder, first-degree murder of a correctional officer and possession of contraband. His trial has been delayed indefinitely. Prosecutors left the decision on potential punishment to the Williamses. They chose the death penalty.
"If you go ahead and take a guy that's life in prison and you give him another life sentence, you literally did nothing," said Don Williams. "You did nothing, except to give a green light now to people to go and repeat this kind of behavior. You just endangered every damn C.O. walking a cellblock."