ICE detentions in ND skyrocket in Trump's first year
A move from Trump led to a nearly 500 percent increase in the amount of ICE detainees housed in the Grand Forks jail
---
By Andrew Hazzard
Grand Forks Herald
GRAND FORKS, N.D. — A move from the Trump administration to increase enforcement on illegal immigration has led to a nearly 500 percent increase in the amount of U.S. Immigrations and Customs Enforcement detainees housed this year in the Grand Forks jail.
Through November, the Grand Forks County Correctional Center has recorded 5,361 ICE bed days, meaning the jail has averaged about 15 ICE detainees per day, according to administrator Bret Burkholder. A bed day is roughly calculated as a day in which an inmate stays overnight.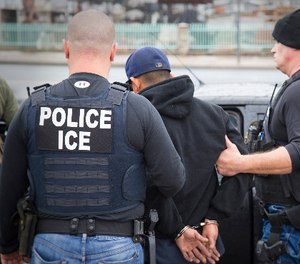 That's a big jump from the 1,319 bed days recorded in 2016 and on pace to come in just below the 6,382 bed days recorded in 2011.
The County Correctional Center serves as a staging area for federal suspects detained at the northern border by U.S. Border Patrol and ICE detainees from across the state before they are sent to federal facilities in the Twin Cities. It is the only jail used by ICE in the state.
Grand Forks correctional officers transport ICE detainees to the Minneapolis area, and the local correctional center is reimbursed for mileage and hours by the federal government.
The correctional center had $6,063,067 in expenses and $2,385,657 in revenue in 2016, according to Grand Forks County Auditor Debbie Nelson.
Last year, housing ICE and other federal inmates represented 81 percent of the jail's revenue.
ICE detainee numbers peaked in 2008, when the jail recorded 11,257 ICE bed days. After a few high usage years, numbers began to drop considerably during the Obama administration.
Although ICE arrests have surged in 2017, actual deportations have fallen this year, according to data released this month by the Department of Homeland Security.
In fiscal year 2017, which ended Sept. 30, ICE removed 226,196 people from the country, a slight decrease from the 240, 255 removals in fiscal year 2016.
Arrests, however, rose by about 40 percent. ICE arrested 143,470 people in fiscal year 2017, about 111,000 of which after Trump entered office and changed policies to expand ICE's targets beyond the Obama administration focus on serious criminals.
©2017 the Grand Forks Herald (Grand Forks, N.D.)