ACLU urges federal judge to take control of jail away from V.I. officials
Jail officials say they have been working to craft new policies and train officers as ordered by the court, but more time is needed
---
Suzanne Carlson
The Virgin Islands Daily News, St. Thomas
ST. THOMAS, VI — For the last quarter-century, the Virgin Islands government has proven incapable of running a jail that doesn't violate prisoners' human rights, and control of the facility must be relinquished in order to end the ongoing suffering there, according to a brief filed Monday by Eric Balaban, an attorney with the American Civil Liberties Union.
Change in the leadership of the jail is premature, Assistant V.I. Attorney General Shari D'Andrade counters in her own brief, saying the Virgin Islands government has "made meaningful strides towards compliance," and "a receiver is unlikely to successfully reform the jail."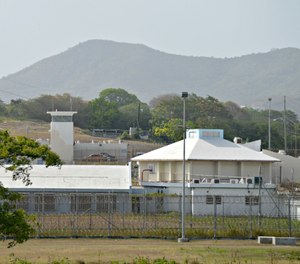 Balaban and D'Andrade filed the briefs in response to an order from U.S. District Court Judge Curtis Gomez, who is considering whether to transfer control of the St. Thomas jail from the V.I. Bureau of Corrections to a federal receiver.
The jail is "either a failing or failed institution in some respects," Gomez said at a hearing in February at which he ordered the local government and ACLU to brief him on whether receivership would be appropriate.
Balaban wrote that while receivership is indeed an extreme remedy, the court cannot continue to allow local officials' incompetence to endanger prisoners' lives.
He cited the words of former federal Judge Stanley Brotman, who presided over the case for 19 years before Gomez took over in 2013.
"It should not take ten years to do what we've been trying to do here," Brotman said in 2006. "And costs are not only measured in the loss of moneys, but they can be measured in loss of lives or the types of life that, insofar as corrections are concerned, although minimal, that these prisoners are entitled to. They're still human beings."
The case began when the ACLU filed suit against the government in 1994 and a settlement agreement was entered in 1996 with the goal of compelling local officials to improve conditions at the jail, also referred to as the Criminal Justice Complex, or CJC, so detainees are not subject to inhumane conditions of confinement while awaiting trial.
But for the last 25 years, government officials "have engaged in a pattern of noncompliance, resistance, and disregard for the agreement and the remedial orders of the court," Balaban wrote. "Dangerous conditions at the jail persist, threatening the lives and safety of prisoners and staff alike. Four times Defendants have been held in contempt, none of which have prompted greater compliance."
The parties entered a new consent decree in 2013 but "in the ensuing eighteen months, Defendants did almost nothing to comply with the decree," Balaban wrote.
Still, Balaban wrote, neglect and abuse at the jail persists to this day.
Since 2013, a seriously mentally ill woman hanged herself in the jail, another seriously mentally ill woman gave birth on the floor of her cell while locked down on solitary confinement and another seriously mentally ill man found not guilty by reason of insanity remained on indefinite lockdown in the jail for years without treatment and "was held without an apparent legal basis to do so," Balaban wrote.
Another man found not guilty by reason of insanity has been held at the jail for close to a year, and Balaban wrote that there are 14 other seriously mentally ill men and women in need of hospitalization who have been languishing at the jail "some for months and years."
D'Andrade wrote that three years ago, the government transferred five mentally ill prisoners to Saguaro Correctional Center, "an accredited facility that provides a higher level of comprehensive medical and mental health care than the St. Thomas jail."
The private prison, which is in the Arizona desert, has also been the subject of complaints of prisoner abuse for years. An ongoing federal lawsuit against the V.I. government claims that Virgin Islander Ruben Santana, who confessed to murder in 2010, was transferred to Saguaro on March 16, 2016, and died nine months later after his pleas for medical treatment went ignored.
D'Andrade wrote that the government also transferred one individual found not guilty by reason of insanity to Columbia Regional Care Center — Correct Care Solutions in 2018, and "moreover, defendants developed an Interim Plan for Timely Transfer of Seriously Mentally Ill Prisoners in Need of Intermediate or Inpatient Care to Appropriate Stateside Psychiatric Facilities," according to the brief filed Monday. "Full execution of the contract with the mental health facility is imminent" and the 14 mentally ill prisoners "will be transferred."
Balaban wrote that the government's "plan to ship seriously mentally ill men and women to a privately run facility in South Carolina has been an abject failure."
Off-island treatment, however, is only available to those whose criminal cases have been resolved and are legally allowed to leave the territory.
While the Health Department is responsible for treating mentally ill prisoners, Balaban said the department's insistence that it will build a new facility at Anna's Hope on St. Croix is a fantasy.
"This is the very same plan the attorney general testified would be completed by the end of 2004, some 15 years ago," Balaban wrote.
"The litany of abuse goes beyond the dangerously inadequate mental health care at the CJC," Balaban wrote. "The jail is a violent facility beset by security lapses. The Court has taken evidence and seen videos of officers assaulting prisoners, and of prisoners assaulting one another."
D'Andrade argues that jail officials have been working to craft new policies and train officers as ordered by the court, but more time is needed.
"Receivership should not be considered, because defendants have not had a reasonable amount of time to comply with the 2013 Settlement Agreement. Over the course of the past six years, defendants have been diligently implementing widespread reform. Full compliance with the Settlement Agreement cannot happen overnight," D'Andrade wrote.
But Balaban said that even though the government has introduced new policies, they're not being followed or enforced.
For example, corrections officer Jamal Crooke assaulted prisoner Benjamin Hodge in July, but "no action was taken against him because the defendants neglected to follow their own court-ordered protocols," Balaban wrote.
Three months ago, corrections officer Merwin Potter was recorded on surveillance video punching a seriously mentally ill prisoner "while he curled up on the ground trying to avoid the officer's blows," Balaban wrote.
Two years ago, a detainee facing a murder charge walked out of his unit through unlocked security doors and stabbed another prisoner with a knife. Another prisoner set fire to another man's cell after the officer on duty abandoned his post. A third mentally ill prisoner set fire to his own cell while on lockdown.
"Weapons, drugs, and cellphones continue to find their way into the jail, without timely and thorough investigations as to how this dangerous contraband ended up in the hands of prisoners at the CJC," Balaban wrote.
Staffing also remains dangerously low, and there are currently only 29 officers working at the jail "fewer than half the court-ordered number required to safely manage the facility," Balaban wrote.
"Despite this cavalcade of errors, the jail remains vulnerable in the event of another hurricane — the facility is currently connected to the generator for the territorial court, which has failed repeatedly in the past year," Balaban wrote.
The jail facility itself is outdated and deteriorating, and the "indirect supervision" model in which guards are secluded from housing units and observe prisoners on monitors, has been scrapped in most jurisdictions for the "direct supervision" model in which guards interact with prisoners face-to-face, which studies have shown reduces violent incidents and allows guards to intervene more quickly in an emergency.
Bureau of Corrections Director nominee Wynnie Testamark has transitioned the jail to using a direct supervision approach in the cluster housing mentally ill prisoners, D'Andrade notes.
Renovation of that cluster was completed Friday.
Balaban wrote that it's imperative that the territory construct a new, modern jail facility that will save on staffing costs long term and reduce the need to house prisoners in off-island facilities.
Currently, the territory pays those facilities $12 million to $15 million a year to house Virgin Islands prisoners, Balaban wrote, and officials have refused to develop a plan to open a new jail.
"Without action by the court, it is clear a new jail will never be built," Balaban wrote.
D'Andrade said the Virgin Islands would not benefit from oversight, and "the issues that hinder expedient compliance with the 2013 Settlement Agreement are unique to the Virgin Islands."
The next hearing in the case is scheduled for May 24.
- Contact Suzanne Carlson at 340-714-9122 or email scarlson@dailynews.vi.
———
©2019 The Virgin Islands Daily News (St. Thomas, VIR)
McClatchy-Tribune News Service