Pa. prison prepares to take additional ICE detainees
Cambria County Prison will house approximately 73 ICE detainees by the end of the week, officials say
---
By Jocelyn Brumbaugh
The Tribune-Democrat
EBENSBURG, Pa. — Cambria County Prison will house approximately 73 federal immigration detainees by the end of the week, prison officials said during a Cambria County Prison Board meeting Wednesday morning.
The prison renewed its partnership with U.S. Immigration and Customs Enforcement (ICE) in 2016, hoping to house up to 10 federal immigration detainees per day at a rate of $70 per day, including transportation.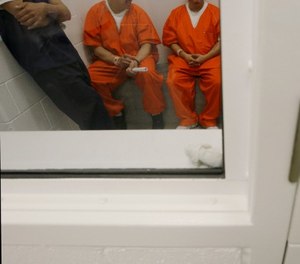 Warden Christian Smith said federal immigration inmates are typically transported from Moshannon Valley Correctional Center to the Clinton County Correctional Facility to await deportation hearings held at federal facilities in York.
Smith said Clinton County's facility is currently at capacity.
Cambria's 450-bed facility has averaged 20 federal immigration detainees recently, but will receive additional ICE inmates being transported from the Moshannon Valley Correctional Center later this week, he said.
Cambria prison officials began holding federal immigration arraignments via video in May to keep more of the ICE detainees on a long-term basis and produce more revenue.
Prison staff have been transporting more immigration inmates to federal facilities in York for additional income, Smith said, with approximately 10 to 13 inmates on each trip.
ICE plans to provide a vehicle to the Cambria County Prison soon to assist with the increased transports that have created a shortage of Cambria's vehicles.
Last month, the Manor Drive facility was inspected by federal officials due to the number of federal immigration detainees housed there.
Smith said prison staff spent several weeks preparing the facility and that officials with the federal Office of Detention Oversight found no deficiencies during the inspection.
The inspection was in addition to the prison's annual checkup by the U.S. Immigration and Customs Enforcement.
The prison is also subject to annual inspections from the state Department of Corrections, but Smith explained those inspections have been performed every other year since about 2000. Annual inspections are waived for prisons that achieve 100 percent on state inspections and are performed every other year.
McClatchy-Tribune News Service