Ga. mayor calls for ICE to move its detainees out of city jail
Mayor Keisha Lance Bottoms said Atlanta will "no longer be complicit" in ICE policies
---
By Jeremy Redmon
The Atlanta Journal-Constitution
ATLANTA — Mayor Keisha Lance Bottoms on Thursday signed an executive order calling for all remaining U.S. Immigration and Customs Enforcement detainees to be transferred out of the city jail as soon as possible and declaring that Atlanta will no longer hold anyone for the federal agency.
Her move follows a separate executive order from June that blocked the jail from taking in any new ICE detainees amid enforcement of the Trump administration's "zero-tolerance" policy, which split up many immigrant families on the southwest border. Bottoms has vigorously objected to that federal policy, saying: "As a country, we are better than this."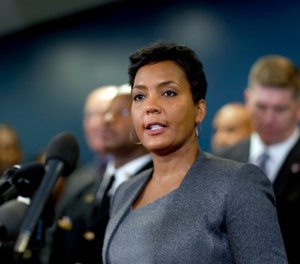 There were just five ICE detainees in the Atlanta City Detention Center as of Wednesday, down from 205 in June. The number has fallen as ICE has released them, deported others and transported some to its other detention centers across the state.
"Atlanta will no longer be complicit in a policy that intentionally inflicts misery on a vulnerable population," Bottoms said at a City Hall news conference moments before signing her executive order. "As the birthplace of the civil rights movement we are called to be better than this."
The mayor's executive order directs the chief of the city's Department of Corrections to permanently stop receiving ICE detainees and request that the federal agency transfer its remaining detainees out of the city jail as soon as possible.
The city, the mayor added, has entered into a partnership with Uber and a pair of Catholic and Lutheran charities, which will provide free rides and meals to immigrant families that have been separated on the southwest border and reunited in Atlanta.
Atlanta is paid $78 a day for each ICE detainee it holds in the jail through a contract with the U.S. Marshals Service, collecting $7.5 million through this arrangement for this fiscal year, as of June. That is more than a fifth of the jail's annual $33 million budget. City officials added the Atlanta jail will continue to hold detainees for other federal agencies.
The Bottoms administration, meanwhile, is exploring selling the city's jail, citing its declining number of inmates and increasing maintenance costs. As of Wednesday, the jail was holding 121 detainees, including the five from ICE. The mayor has already directed City Hall to identify new positions for the jail's staff.
"We are reimagining what this property could be," Bottoms said about the jail in a prepared statement last month. "With many big developments going on in the area, the jail itself has become prime real estate. That will certainly have to be weighed along with its potential use as a detention facility for some other jurisdiction."
Atlanta has come under heavy criticism from immigrant rights advocates for holding ICE detainees. On the other hand, Secretary of State Brian Kemp, Georgia's Republican nominee for governor, said in June that the city should honor its "longstanding agreement" to house the detainees, adding: "Public safety – not partisan politics – must always come first."
ICE has said that if Bottoms were to cancel the contact, the federal agency would instead place people facing deportation in its detention centers in Folkston, Lumpkin and Ocilla. ICE and the private corrections company that operates the Folkston ICE Processing Center agreed this year to expand that facility by 338 beds.
McClatchy-Tribune News Service