Pa. prison officials prepare for mass inmate transfer
Nearly 160 Northumberland County inmates will move to a new facility about six miles away
---
By Justin Strawser 
The Daily Item
COAL TOWNSHIP, Pa. — Nearly 160 Northumberland County inmates, on an unspecified date this month, will make the move from the county's wing at State Correctional Institution-Coal Township to the county's new facility approximately six miles away.
Susan McNaughton, a spokeswoman for the state Department of Corrections (DOC), said the public cannot know the exact date, time or logistics of the move due to security reasons, but it is expected to take no longer than one business day. The county prison system actually has 220 inmates across several facilities in the state.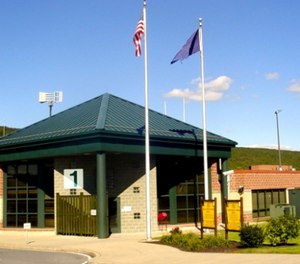 "SCI-Coal Township Administrative staff, in conjunction with NCP Administrative staff and with oversight of the PA DOC's Central Office, have developed a plan of action for the move. The plan involves many disciplines from both state and county resources," McNaughton said. "One of the highest security threats to staff and/or inmate is an outside transport. With the amount of inmates being relocated, that only heightens the event."
The county prison system has been headquartered at the state facility since a fire destroyed the old county prison in Sunbury in January 2015. While the majority of inmates have been housed at SCI-Coal Township, other facilities across the state also house the county's prisoners. County officials on Wednesday held a ribbon-cutting ceremony for the new prison.
Warden Bruce Kovach said the county prison system will be ready for operations on the day the inmates are brought over.
"We have to be," Kovach said. "Unless this jail is 100 percent, we won't bring anyone in."
Mass inmate movements and transports like this are "very rare," McNaughton said.
In July, the state relocated more than 2,500 inmates from the 90-year-old SCI-Graterford to the upgraded, replacement facility SCI-Phoenix, but that was on the same property less than a half mile down the road.
The last inmate transport like what is about to occur was on Jan. 14, 2015, when Northumberland County inmates were transferred away from the burning facility in Sunbury to SCI-Coal Township, approximately 16 miles away.
Other mass movements occurred in the 2000s, when the DOC sent 2,000 inmates to Michigan and Virginia due to overcrowding, and then Gov. Corbett brought them all back; in 1989, when the DOC shipped inmates to the federal system following prison riots at Camp Hill; in the 1940s, from Huntingdon to Camp Hill by train; and 1920s, from Eastern to Graterford, McNaughton said.
McNaughton said no decision has been made as to what will happen to the county wing once it is no longer needed by the county.
"We appreciate the help from the state," Commissioner Sam Schiccatano said. "We are looking forward to getting our own inmates into our own facility as soon as we can to get our place up and running."
McClatchy-Tribune News Service