Prisoner, a former actor on 'The Wire,' escapes Baltimore police custody at hospital
Christoper Clanton Sr., 33, had been taken to Good Samaritan Hospital because of a pre-existing medical condition
---
By Meredith Cohn and Ian Duncan
The Baltimore Sun
BALTIMORE — Baltimore police are searching for a former actor on "The Wire" who they say escaped from custody after he was taken to a hospital for a check.
Christopher Clanton Sr., 33, was arrested Sept. 12 in Northeast Baltimore for violating a protective order, according to police.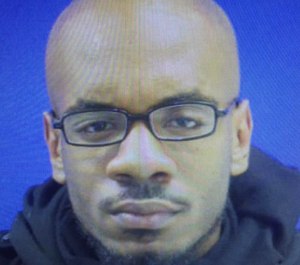 Someone first sought the order against Clanton in July and a judge issued a final order this month, according to court records. Clanton also has three pending criminal cases, according to the records.
He was taken to Good Samaritan Hospital because of a pre-existing medical condition before being taken to Central Booking to be processed, police said. He left the hospital Friday.
On "The Wire," Clanton played Savino Bratton, a recurring character who appeared in nine episodes in the first and fifth seasons of former The Baltimore Sun David Simon's HBO show about crime in Baltimore. Clanton was also an extra in a Simon's earlier show "The Corner."
In the early hours of Saturday morning, Clanton posted his own account of his alleged escape on Facebook. In the post, from 2:13 a.m., Clanton wrote that he saw the officer guarding him using cocaine and the officer threatened to plant a gun on him.
Police spokesman Donny Moses said Saturday that Clanton had not turned himself in and that he was not familiar with the Facebook post or its allegation about the officer.
In a private message, Clanton told The Baltimore Sun that the chain of events leading up to his arrest began early this month when his son's mother was arrested and jailed. Clanton said he had been trying to get police to help him track down his son but was arrested when he went to the block that is listed as his son's mother's address in court records.
The day before Clanton's arrest he had filed a motion for an emergency hearing in an open child custody case in which he is named, court records show.
The post on his Facebook page says: "BALTIMORE CITY REFUSES TO GIVE A STABLE MAN HIS SON."
Clanton said he was able to simply slip out of the hospital and walk away at about 10:30 a.m. Friday.
In the public post, Clanton said he was going to turn himself in. But another post later at 10:21 a.m. Saturday responding to a question about him turning himself in he said: "I aint doint that."
Moses declined to comment on Clanton's account of his arrest because the case involved a protective order.
©2019 The Baltimore Sun
McClatchy-Tribune News Service