Police arrest another accomplice in Wis. inmates' prison escape
Katherine Wooderick was the driver that picked up inmates Thomas Deering and James Newman after they escaped
---
By Bridget Cooke
WiscNews
COLUMBIA COUNTY, Wis. — Columbia County Sheriff Roger Brandner announced Tuesday that authorities had arrested another person suspected of helping two inmates who recently escaped from the Columbia County Correctional Institution.
Katherine Wooderick, 46, of Madison, was found at her home and arrested with the help of the Madison Police Department.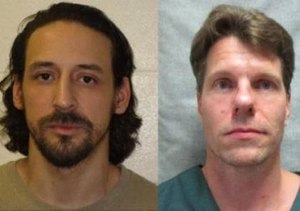 According to the announcement by Brandner, Wooderick was the driver of a white vehicle that picked up Thomas Deering and James Newman from Piggly Wiggly in Poynette hours after they had escaped from the prison April 16.
The pair had failed to show up for a bakery shift. Video surveillance showed in the early morning hours, Deering and Newman had scaled two institution fences, throwing clothing over the barbed wire after scaling the fence with makeshift rope.
Deputies found bloody clothes at the Best Western motel in Portage. A note dropped on the ground near the prison fences outlined directions from the motel to an address in Madison. A Portage taxi driver arrived around 4:45 a.m. to take the pair to the Portage airport, but when they got into the vehicle, she told deputies one of the men handed her a $100 bill and asked to drive them to Madison.
The cab driver told the men she had to stay within a 10-mile radius and the farthest she could take them south was to the grocery store in Poynette.
Authorities discovered Deering and Newman were picked up at Piggly Wiggly by someone driving a white vehicle. The announcement identifies Wooderick as the driver of the vehicle. Online court records show Wooderick has no criminal convictions.
Deering and Newman were also allegedly aided in their escape by a Pardeeville woman who, according to a criminal complaint, told authorities she was afraid for her life. Holly M. Zimdahl, 46, was recently charged with aiding an escape and delivering illegal articles to an inmate. Zimdahl allegedly told deputies she received threatening messages against herself and her family while working at the prison kitchen.
Searches of Zimdahl's property found multiple cell phones, $1,400 in $100 dollar bills and a note instructing her where to buy electric fence cutters. The writers of the notes, unknown to Zimdahl, she said, told her to hide certain items in pallets and in a cooler in the kitchen where she worked. Zimdahl allegedly told police she knew it was wrong.
Deering and Newman were arrested the next day at a homeless shelter in Rockford called Miss Carly's after the proprietor recognized their mugshots, noted their prison-issued sweatpants and offered them a cup of coffee before calling the police.
A Rockford Police officer told Columbia County authorities that Deering bragged about being the only person in Wisconsin who had escaped from two maximum security prisons. According to the complaint, Deering told an officer that he had collected coax cables and yoga mats to protect them from the razor wire. Newman had previously escaped a supervised living facility in July 2012 in Jackson County.
Wooderick has not been formally charged. The investigation of the escape remains ongoing and more arrests are possible, according to the release.
———
©2020 WiscNews
McClatchy-Tribune News Service