Woman hides $1,700, drugs in underwear during booking
Arresting officers found drugs and cash on her, and more was found while she was being booked into jail
---
By C1 Staff
DAYTON, Ohio — A woman who was being booked into the Montgomery County Jail on drug charges attempted to smuggle cash and drugs into the facility in her underwear.
WHIO reports that an officer found more than $1,700 cash stuffed inside T'Asia Stroud's bra, along with heroin, cocaine and marijuana hidden in her panties.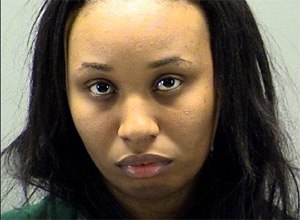 Officers who initially arrested Stroud found money in her pants pocket totaling up to $1,515. They also found five hypodermic syringes and a gelatin capsule of heroin, two cellphones and another $9.
She denied having anything else on her person on the way to the jail.
But a further search during booking turned up the money and the drugs.
Stroud was booked on suspicious of trafficking in drugs; illegal conveyance of weapons, drugs or other prohibited items onto the grounds of a detention facility or institution,; and possession of drugs, all felonies. She also received a misdemeanor charge of possessing drug abuse instruments.