SC inmates sew seeds of freedom and economics
Ladies of Leath Women''s Correctional Institution in Greenwood has been handcrafting patriotic American flag bow ties since Tight Lines Y'all teamed with Prison Industriess
---
By Alex Buscemi
The State
COLUMBIA, S.C. — Inmates from the South Carolina Department of Corrections are sewing the seams of freedom and stitching together the basis for a better life outside of prison.
Ladies of Leath Women's Correctional Institution in Greenwood has been handcrafting patriotic American flag bow ties since Tight Lines Y'all, a Greenville-based custom bow tie and southern apparel manufacturing company, teamed with Prison Industries.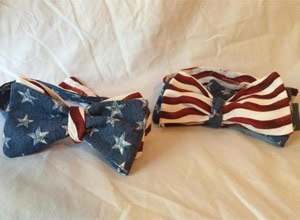 Prison Industries, a division of the corrections department, is committed to employing and training inmates.
"It gives them a sense of purpose … something to work for," said Stephanie Givens, the department's communications director.
Only inmates who haven't received any disciplinary penalties since being imprisoned are selected through an application process. Inmate wages, which are paid by Tight Lines Y'all and span from $7.25 to $10 an hour, are taxed and go toward victim restitution, room and board and resources for the inmates' reentry into the community.
"They love it," said corrections director Bryan Stirling. "It gives them a skill that they can take with them when they leave prison. A portion of their money goes to the savings they have built up so they can find a place and not go back into crime."
The partnership is a win for Tight Lines Y'all, too. Owner and founder Terry Jones says he's saved around 25 percent on labor costs.
"It was a good fix for me," he said. "I wouldn't have to buy a building, worry about worker's compensation and health benefits, no retirement … we don't have to worry about them calling in sick – they'll put someone else in to do it. I'm paying in monetary amounts and they take care of all the things related to an employee."
Jones says that switching to prison labor cuts the cost, not the quality of his product.
"They don't just make license plates anymore," he said. "These guys are very, very talented."
Phil Burckhalter, director of prison industries, said the program is not trying to take jobs away from the community, but give start-up companies who are trying to grow an avenue for production.
One of the requirements for companies to use inmate labor is that they don't have a current operation in the United States, he said.
"We are not going to let them close down a business to come with us," Burckhalter said. "We are looking for someone to grow their business or bring a phase of their business that is outside of the United States back in."
The patriotic bow ties are the flagship product for a campaign that benefits veterans. For every product sold in July, Tight Lines Y'all will donate $5 to Hidden Wounds, an organization that raises awareness for post traumatic stress disorder.
The 100 percent cotton bow ties area way to proudly display Old Glory, just in time for the Fourth of July. The bow can be tied in four different ways to show off four different patterns, a signature trait of Tight Lines Y'all bow ties.
At $65 each, the ties can be purchased at several locations in the Columbia and Lexington areas, including the S.C. State Museum, the State House gift shop and Craig Reagin Clothiers.
For $85, Tight Lines Y'all will send customers a tie in a wooden box burned with the company's logo and engraved with the name of the recipient. The boxes are crafted by inmates at Perry Correctional Institution in Pelzer.
Around 1,345 South Carolinian inmates are currently working for prison industries doing everything from refurbishing golf carts to planting trees. Stirling says he's willing to work with anyone as long as the prisoners can handle it.
"We welcome all comers," he said. "We have to see if we have the ability to do it and see if it's a good fit for them."