Minn. inmate pens thank-you note to sheriff, corrections officers
In a Facebook post, the department acknowledged the letter and what it meant to receive praise instead of criticism
---
Tyler Carter
Idaho Statesman
CARVER COUNTY, Minn. — A Minnesota sheriff and his staff received something they don't normally receive from inmates -- a letter of thanks.
An inmate at the Carver County Jail penned a note to Sheriff Jason Kamerud and his staff, thanking them for providing him with a "safe environment for personal reflection and growth," the letter read.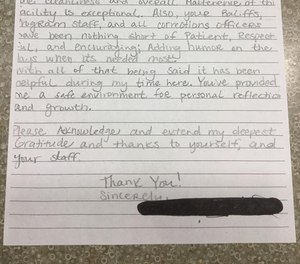 "I wanted to bring to your attention that the cleanliness and overall maintenance of this facility is exceptional," the letter noted. "Also, your bailiffs, program staff and all corrections officers have been nothing short of patient, respectful and encouraging; adding humor on the days when it's needed most."
In its Facebook post, the department acknowledged the letter and what it meant to receive it, rather than the usual criticism of deputies and jail officials.
"A great show of appreciation to our Detention Staff in our jail," the department wrote. "As you can imagine, they don't get a lot of Thank Yous in their line of work. Our Mission statement is to treat everyone with respect and dignity and to do so with honor, integrity and pride."
McClatchy-Tribune News Service