'Widespread' flu cases reported throughout Neb. correctional facilities
Forty-five inmates have become sick at five different facilities; officials are taking extra steps to reduce the number of illnesses
---
By CorrectionsOne Staff
OMAHA, Neb. — Correctional facility officials in Nebraska are taking extra precautions in order to combat the spread of the flu.
3NewsNow.com reported that 45 inmates have recently become sick throughout five correctional facilities in the state. The illnesses were reported at the Nebraska State Penitentiary, Community Corrections Center-Lincoln, Community Corrections Center-Omaha, Tecumseh State Correctional Institution and the Diagnostic and Evaluation center.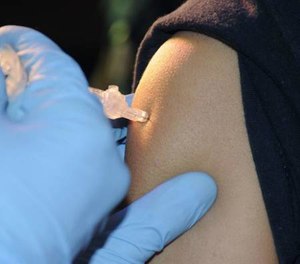 The Nebraska State Penitentiary has the highest number of confirmed and suspected flu cases, according to Scott Frakes, director of the Nebraska Department of Correctional Services. 
"New intakes will be screened for symptoms and members of the medical staff will be providing vaccinations on a regular basis to those who request them," Frakes said. "The complicating thing about the flu is that people don't often realize they are sick, until they have already passed the virus to those around them. That makes it difficult to stay one step ahead of the illness."
Wardens have been advised to disinfect areas used by inmates, staff and vistors, according to the report. 
"This is going to be a constantly evolving situation. Most of our facilities are not currently affected, but we suspect all of them will be at some point," Frakes said. "We are taking every step we possibly can to reduce the number of illnesses. But, with the flu characterized as 'widespread' in Nebraska, we also recognize this could be a significant flu season."