Ala. county to end first responder hazard pay due to economic uncertainty
Nearly 300 Baldwin County Sheriff's Office personnel have been receiving time-and-a-half for the last two weeks
---
Montgomery Advertiser
BALDWIN COUNTY, Ala. — First responders employed with the Baldwin County Sheriff's Office will no longer be given hazard pay as county commissioners face economic concerns over the coronavirus shutdown.
Nearly 300 Baldwin County Sheriff's Office personnel, including deputies, correctional officers, and dispatchers, have been receiving time-and-a-half compensation for the last two weeks.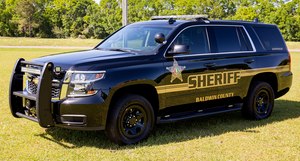 "With the uncertainty of this whole situation, we don't know how much our income is going to be hurt at this point in time," said Billie Jo Underwood, Baldwin County Commissioner.
Underwood said the commission voted Tuesday to end hazardous pay as the coronavirus shutdown leaves an unclear economic future lying ahead.
"It's a tough decision that we have to make because we value our employees above everything. But it's part of our fiscal responsibility to make sure that we are good stewards of taxpayer dollars," Underwood said.
Underwood said the county has shelled out nearly $500,000 dollars in hazard pay since the county began the effort two weeks ago.
Underwood said even though the Cares Act was passed to provide federal relief, there's no clarity when, or if, the county will be reimbursed.
"We've done everything we can to make sure everyone is as safe as possible. I'm very thankful we have not had to furlough any employees at the county," Underwood said.
Underwood also said county officials are open to restarting hazard pay if it's needed in the future.
McClatchy-Tribune News Service