Gang codes: The contraband code
In order to arrange for the contraband to be brought into the facility, the inmate and the co-conspirator often use a code like the case we're about to examine
---
Contraband doesn't creep into a correctional facility on little cat feet, like the fog described by Carl Sandburg. Contraband is brought in deliberately and secretly. To do so, inmates need to be able to give very specific instructions to a co-conspirator outside the facility. This person is often a member of the same gang, a family member or a girlfriend / boyfriend. In order to arrange for the contraband to be brought into the facility the inmate and the co-conspirator often use a code like the case we're about to examine in illustration #1.  This illustration shows a complete page and two lines that were on a second page.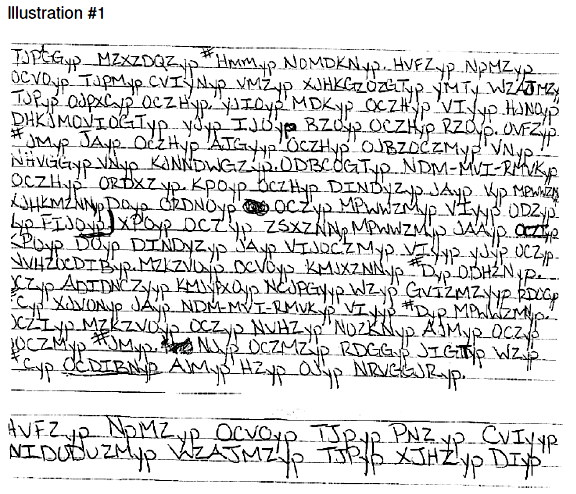 As you examine illustration #1, look closely for any patterns that will give you an idea what words the symbol groupings may be.
In illustration #2, I have identified one major pattern. The letters "YP" indicate the end of each word and each sentence. Now that you can identify a symbol group, look for a pattern that identifies what the meaning of a group may be.