Decon7 Systems
---
Decon7 Systems
8541 E. Anderson Dr. #106
Scottsdale, AZ 85255
Phone: 480-339-2858
Decon7 develops and manufactures tactical decontamination solutions for military, public safety, and security professionals worldwide. On top of large scale solutions, D7's portable, ready-to-use low burden systems are able to seamlessly reduce the spread of contamination and minimize exposure risk to first responders.
Decon7 Systems' BDAS+ units offer COs a quick, easy, ready-to-use solution against bacteria, viruses, mold, spores, and chemical threats.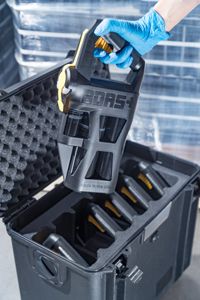 Corrections officers face numerous threats on the job. Some are easily recognized while others like blood-borne pathogens, bacteria, and viruses are not. D7 is the world's safest and most effective broad-spectrum disinfectant and chemical decontaminant.
Watch it in action:
Be the first to hear about products, announcements, and special deals & promotions from Decon7 Systems
Thank You!