Keep Your Facility Safe with Shank-Free Cleaning
---

Briarwood Products offers a full line of high-quality plastic cleaning tools ideal for use in correctional facilities and safe for all to use. All products are 100% Metal-Free and ideal for use in Correctional Facilities.
Included in the line are the Adjust-A-Turn Surface Cleaning Tools, Wet Mop Holders, Sweeping Equipment and Fiberglass Telescoping Extension Poles.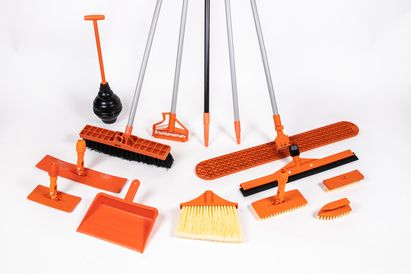 All products are made in the USA.
Designed to eliminate the potential for makeshift weapons from hard plastic or metal parts.
Fully interchangeable – if one should break, you do not have to buy a whole new system of cleaning tools.
Rugged 100% plastic construction- No Metal
Most units are bonded with adhesive to make a complete solid unit to prevent disassembly by inmates.
All bristles are fused onto the block to ensure a secure Metal Free bond
Will not conduct electricity.
Chemical resistant and prevents bacteria growth

Be the first to hear about products, announcements, and special deals & promotions from Briarwood Products, LLC
Thank You!