CDCR corrections officer saves K-9 partner's life
CO Ernest Trujillo realized that his partner had ingested some of the contraband they'd been searching for
---
By C1 Staff
SACRAMENTO, Calif. — A daily cell check turned into a race against time when a corrections officer realized that his K-9 partner had ingested some of the contraband he'd been working to discover.
The CDCR reports that Corrections Officer Ernest Trujillo and his K-9 partner Tucker were searching housing units for contraband when Tucker showed interest toward a particular cell.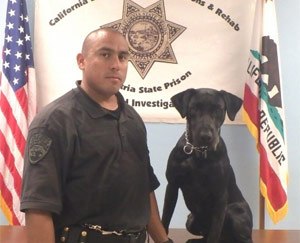 Trujillo searched the cell, not turning anything up, and then sent Tucker in for a more thorough check. Tucker pulled a towel out from under the bunk, revealing a small lip balm cap containing what Trujillo initially identified to be black tar heroin.
But Trujillo also noticed that Tucker was acting oddly, indicating he may have ingested the drugs. He immediately began inducing Tucker to vomit before rushing him to the nearest vet clinic.
On the way, Trujillo was notified that the substance has tested positive for heroin. He knew time was precious.
"I can't freeze up," Trujillo said of getting Tucker immediate medical attention. "This is my partner, it's instinct, I can't let anything bad happen to him."
The vet injected Tucker with Naloxone HCL, an antidote for opioid poisoning, and kept the K-9 for observation.
Tucker was luckily treated and released on the same day.