Calif. CO donates bone marrow to young girl
Correctional Officer Nicholas Young donated bone marrow to a 9-year-old girl he'd never met
---
By Don Chaddock
Inside CDCR
FOLSOM, Calif. — Folsom State Prison Correctional Officer Nicholas Young went above the call when he donated bone marrow to help save a young girl's life.
Officer Young said he was contacted by the Be The Match organization who was hunting for someone who might be a match for a 9-year-old girl who was having problems producing bone marrow.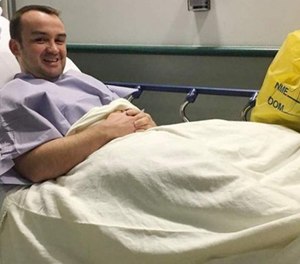 "About a year ago … they asked me to donate some blood to see if I was a match. I turned out to be a direct match for her," said Officer Young.
The girl was in need of help so he answered the call.
"I have an 8-year-old girl myself and it hits home and I know how the parents feel," he said. "I would want someone to help me in this situation."
With no time to lose, the marrow was extracted and flown to the girl for surgical injection.
"In November of 2016, Be The Match contacted me and said that the girl needed the bone marrow soon," he recalls. "So on Jan. 6, 2017, I went to the University of California at San Francisco and did a bone marrow harvest and donated about a liter of bone marrow."
He said it's rewarding to know he was able to help.
"I would have donated anyway but it makes it a lot easier when you know it could save a life," Officer Young said. "I was very sore for about two weeks after but it was worth it."
He is a supporter of donating blood and marrow.
"I think that donation is awesome because there is a lot of people that need it and I'm glad that I could help out and save a life," he said. "I would do it again if needed."
Officer Young started his career in March 2005 at Kern Valley State Prison. In 2009, he transferred to Folsom State Prison.