Man gets 20 years in conspiracy to kill corrections officer
Man sentenced to 20 years for conspiring to kill CO in hit orchestrated by inmate on illegal cellphone
---
By John Monk
The State
COLUMBIA, S.C. — An Orangeburg man was sentenced to 20 years in federal prison Wednesday for conspiring to kill a state corrections officer in a hit orchestrated by an inmate on an illegal cellphone.
The officer had angered inmates by repeatedly foiling shipments of illegal cellphones and drugs into Lee Correctional Institution in Bishopville.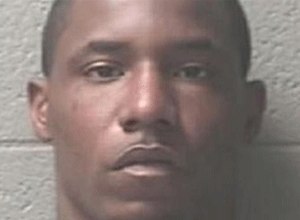 After being sentenced by U.S. Judge Joe Anderson, Sean Echols, 31, who was already manacled, stood and shouted obscenities. He was subdued and escorted from the courtroom.
"This clearly calls for the maximum sentence," Anderson told a standing-room only courtroom at the U.S. courthouse in Columbia. The audience included more than a dozen uniformed corrections officers, current S.C. Department of Corrections director Brian Stirling and former director Jon Ozmint.
Echols had pleaded guilty to conspiracy to use of interstate facilities – in this case, a cellphone – in a 2010 murder-for-hire plot to kill prison Capt. Robert Johnson, now retired, but then a guard supervisor at Lee Correctional.
Anderson ordered that Echols' 20-year sentence be served consecutively to a current unrelated armed robbery sentence Echols is now serving time for in state prison. That means Echols won't be getting out until about 2045, according to prison records.
Echols is the only person so far charged in the plot, which allegedly involved other inmates at Lee Correctional. He did not admit to being the actual shooter, and authorities don't have conclusive evidence as to who was the actual shooter. Authorities say the investigation into the plot is continuing.
Johnson – a grandfather of two – oversaw efforts to crack down on contraband cellphones and drugs, a longstanding problem. Inmates, who make money off the contraband, were furious at Johnson because he had foiled numerous contraband shipments, prosecutors said.
Echols, who had recently been released from Lee after serving time on various burglary, robbery and assault charges, used a cellphone to plot with inmates at the prison to kill Johnson, prosecutors said. Echols got an initial payment of $6,000 from plotters.
On March 5, 2010, around 5 a.m., at least one gunman broke into Johnson's home in Sumter, shooting him six times with a .38-caliber revolver at close range in the stomach and chest and leaving him for dead. Johnson's wife, Mary, was in the house at the time but was not harmed.
Johnson, 61, a 23-year Air Force veteran, survived. He has undergone 17 surgeries as a result of the shooting. But in a press conference after the sentencing, he said he is maintaining a cheerful, upbeat attitude although he still suffers constant pain and lingering disabilities.
His medical bills came to some $1 million, Johnson said, but the corrections department paid the tab since the shooting happened in the line of duty. "That has been a blessing," he said.
Johnson said he had long since forgiven the shooter, and his being able to forgive was one reason he has recovered so much.
"When I was in the Florence hospital, I woke up about 3 o'clock in the morning, and the Lord said, 'You got to forgive.' I said, 'What? – Lord, this wasn't no hunting accident. This man hunted me down.' He said, 'You got to forgive.' I said, 'Forgive – I can't forgive.' 'Follow me.' So, I said, 'Okay, I forgive.'"
Johnson explained that he didn't immediately grasp the significance of forgiveness. But as time went on, he felt forgiving Echols freed him from self-destructive rancor.
"That really released me," he said. "I know if I hadn't forgiven him, I would have been crazy or hurt myself because of all of what we've been through. I'm free," he said. "I'm not going to just sit around and get old hating. There's other things to do."
Still, Johnson said, he wished Echols had gotten more time.
Johnson didn't get a clear look at who shot him. After someone kicked his door down before dawn, he went to the bathroom and called out, deliberately drawing whoever it was to him so they wouldn't go to the bedroom, where his wife was.
"My mind went blank until I woke up on the floor of the bathroom," he said.
Johnson said he makes himself walk 21/2 miles every day, though the injuries make it difficult to breathe. "I'm just not going to sit at home and rot away," he said.
Johnson, who uses a cane because bullets hurt the blood supply to one leg, credits his wife with showing him examples of people who were worse off than he is, and that gave him the daily motivation he needs to stay as active as he can.
"I'm in pain 24/7," he said. But he doesn't take pain pills, because when he did, it made him "walk around in a fog."
But he still was glad Echols got the maximum punishment.
If another person tries to kill him, Johnson told reporters, this time he will be ready. "If it happens, it's going to be a different outcome."
Johnson said he had been aware there was a contract out to kill him, but he always thought any attempt on his life would happen at the prison where he worked – not at home. "I didn't think they would come to my house."
After the sentencing, Stirling praised Johnson for doing his job and vowed to continue efforts to crack down on contraband. "We will not tolerate it."
Johnson plans to do a lot of fishing and hopes to fish in the warden's fish pond at Wateree Correctional Institution. "The warden, he said he'll work that for me."