5 things to know about Chelsea Manning
Here are five things to know about Manning, the former soldier, whose sentence sparked controversy and calls for her release
---
By C1 Staff
President Barack Obama commuted Chelsea Manning's prison sentence Tuesday – one of 209 commutations and 64 pardons from the president, who leaves office in just three days. That brings Obama's total commutations to 1,385 – more than any other president in American history.  
Here are five things to know about Manning, the former soldier, whose sentence sparked controversy and calls for her release.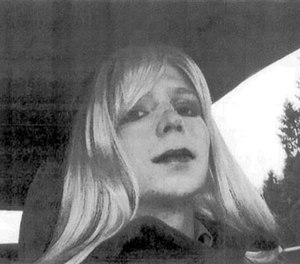 1. Manning was convicted for leaking military documents. 
In 2010, Chelsea Manning (then known as Pfc. Bradley Manning), provided a vast collection of classified and sensitive documents to WikiLeaks, an organization that publishes data from anonymous sources. Manning was an intelligence analyst for the Army in Iraq and had access to the material, including videos of airstrikes in Baghdad and Afghanistan and diplomatic cables – the largest leak of classified material in U.S. history.
In a 2015 op-ed for the Guardian, Manning explained her intentions as follows: 
"I felt that the Iraq and Afghanistan "war diaries" (as they have been dubbed) were vital to the public's understanding of the two interconnected counter-insurgency conflicts from a real-time and on-the-ground perspective. In the years before these documents were collected, the public likely never had such a complete record of the chaotic nature of modern warfare. Once you come to realize that the co-ordinates in these records represent real places, that the dates are our recent history and that the numbers represent actual human lives – with all of the love, hope, dreams, hate, fear and nightmares with which we all live – then you cannot help but be reminded just how important it is for us to understand and, hopefully, prevent such tragedies in the future." 
In 2013, Manning was sentenced to 35 years in prison and dishonorably discharged from the military. 
2. The sentence sparked controversy. 
Manning's prison sentence was far longer than any previous leaker of government information and sparked outcry as a result. 
Ben Wizner, director of the American Civil Liberties Union's Speech, Privacy & Technology Project, told the Guardian at the time: "A legal system that doesn't distinguish between leaks to the press in the public interest and treason against the nation will not only produce unjust results, but will deprive the public of critical information that is necessary for democratic accountability."
In a letter to President Obama petitioning for her release, Manning argued: 
"I take full and complete responsibility for my decision to disclose these materials to the public. I have never made any excuses for what I did. I pleaded guilty without the protection of a plea agreement because I believed the military justice system would understand my motivation for the disclosure and sentence me fairly. I was wrong."
3. Manning put a spotlight on the debate about transgender rights in prison and in the military. 
Manning, who announced she was transitioning in 2013, tried to kill herself twice last year and went on a hunger strike in September 2016 to protest her treatment in prison. These were just the latest incidents in a years-long battle with the Department of Defense related to her gender dysphoria. The hunger strike ended five days later after the Army agreed to allow her to receive gender-affirming surgery. 
Two years ago, the Army agreed to provide Manning hormone treatment. 
4. Manning's release has been condemned by some politicians. 
House Speaker Paul Ryan was among the politicians that condemned Manning's release, writing that "Chelsea Manning's treachery put American lives at risk and exposed some of our nation's most sensitive secrets." 
Chelsea Manning's treachery put American lives at risk and exposed some of our nation's most sensitive secrets.

My full statement ↓ pic.twitter.com/PcQrgK2SI3

— Paul Ryan (@SpeakerRyan) January 17, 2017
Republican Sen. John McCain called the move a "grave mistake," arguing that the commutation "devalues the courage of real whistleblowers who have used proper channels to hold our government accountable."
Republican Sen. Lindsay Graham wrote: "Commuting #Manning's sentence is a slap in the face by our Commander-in-Chief to those who served honorably."
5. Julian Assange said he would agree to U.S. extradition if Manning was given clemency. 
WikiLeaks founder Julian Assange tweeted on Jan. 12 that he would agree to US extradition if Manning was granted clemency.
If Obama grants Manning clemency Assange will agree to US extradition despite clear unconstitutionality of DoJ case https://t.co/MZU30SlfGK

— WikiLeaks (@wikileaks) January 12, 2017
According to the Associated Press, Assange is currently in an Ecuadorian Embassy in London where he took refuge to avoid extradition to Sweden where he is being investigated for rape allegations. He refuses to leave London for fear of being extradited to the US on espionage charges. 
After the news of Manning's release, WikiLeaks tweeted, "Assange lawyer @themtchair on Assange-Manning extradition 'deal': "Everything that he has said he's standing by."