2nd trial date expected to be issued in Slender Man stabbing
Both girls were 12 when they were charged as adults in June 2014 with the attempted first-degree intentional homicide
---
By Bruce Vielmetti
Milwaukee Journal Sentinel
The second girl charged in the Slender Man stabbing case is expected to get a trial date Monday— and lose her motions for an out-of-county jury and to block statements she gave police upon her arrest.
Last week, Circuit Judge Michael Bohren made similar rulings against Morgan Geyser, 14, and set her trial for October. On Monday, Bohren is set to announce decisions for 15-year-old Anissa Weier.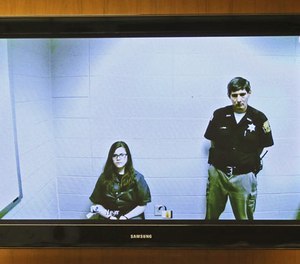 Both girls were 12 when they were charged as adults in June 2014 with the attempted first-degree intentional homicide of a sixth-grade classmate to please Slender Man, an internet bogeyman. Geyser and Weier told police they believed Slender Man would kill them or their families if they didn't kill Payton Leutner, who had to have several surgeries to survive 19 stab wounds.
For years, the case against both girls proceeded mostly on the same schedule but in December, Bohren granted the defense their only pre-trial wins, ordering that Geyser and Weier be tried separately.
Since their arrests May 31, 2014, Weier has been held on $500,000 bail at a juvenile detention center in West Bend where most juveniles spent less than a week. Both she and Geyser spent some time in 2014 at Winnebago Mental Health Institution while experts assessed their competence to understand the charges and assist in their own defense.
During those sessions, Geyser was diagnosed with early onset schizophrenia but didn't get any treatment until she was civilly committed by a different judge more than a year ago. Since then, she stayed on and off at the Winnebago facility but has remained there since last summer.
Both girls have entered pleas of not guilty by reason of mental disease or defect. Much of the delay in the case came from efforts to have their cases transferred to juvenile court, which were ultimately unsuccessful.
If convicted, they face up to 45 years in prison. Had they been adjudicated delinquent, they would have been held up to two years Wisconsin's juvenile prison for girls, and then put on a more intensive community supervision than adults typically face after their prison terms.
———
©2017 the Milwaukee Journal Sentinel